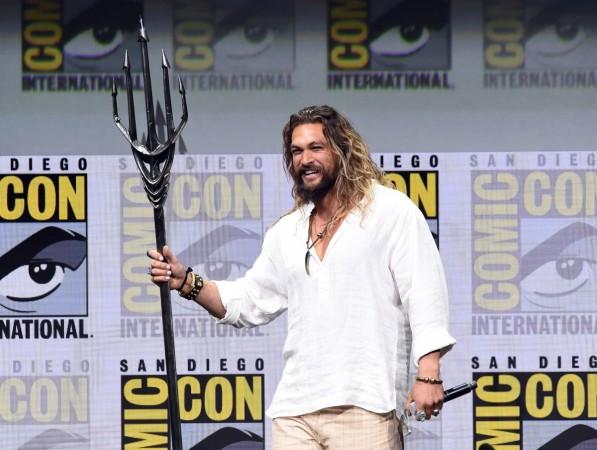 The Aquaman trailer releases at the San Diego Comic-Con today. The DC film is directed by James Wan and stars Jason Momoa, Amber Heard, Nicole Kidman, Willem Dafoe, Patrick Wilson, Dolph Lundgren, Yahya Abdul-Mateen II and Temuera Morrison to name a few.
Ahead of the trailer release, Momoa took to his social media platforms and shared an epic video teasing the promo. The shirtless Game of Thrones actor is seen standing atop a cliff in his hometown, Hawaii. He then thanks his fans for his support.
Soon after his message, he dives into the waters and his waterproof phone. He then goes underwater to confirm that the Aquaman trailer releases on July 21.
Wan has been teasing the movie in his unique style as well. The director has been sharing pictures from his editing room and giving fans a glimpse of the trailer. Speaking to Comicbook.com, the filmmaker revealed that he was consciously trying not to portray Aquaman as Superman.
"From a story standpoint there's a reason why Aquaman ultimately is powerful. He's strong because, like most Atlanteans, their bodies are built to withstand thousands of pounds of pressure, they live so far down. So when they come up, their body is... they're not aliens from another planet, but because of the physics of our planet and all that stuff, when they come up to the surface world their body can withstand really strong pressure," he explained.
Wan teased the movie's plot a few months ago. Speaking to Entertainment Weekly, he said, "The main antagonist in this movie is Orm, played by Patrick Wilson. And Black Manta, played by Yahya [Abdul-Mateen], is caught up in that world with them as well. But the main drive really is, it's almost a very classic Shakespearean story about brother from another world vs. brother from another world. And it really is a classic story of sibling rivalry."
Without further ado, here's where you can watch the Aquaman trailer:
Aquaman trailer releases at 10:30am PST/1:30pm EST (11 PM IST). The trailer is expected to be 2 minute and 30 seconds long.