A brilliant performance at Lord's, a team desperate, beyond imagination, to bounce back and ill-feeling over an altercation just brewing and brewing – England vs India 3rd Test in Southampton promises to be another cracker.
Where to Watch Live
Get the report HERE
The 3rd Test is set to begin at 11 am local time (3.30 pm IST, 6 am ET) with live coverage on Star Sports 1, Star Sports 3 and Star Sports HD1 in India. The match can also be watched via free live streaming online HERE. Catch the action live online in the UK HERE, with TV coverage on Sky Sports 2. Listen to the Test via BBC Radio 5 Live HERE. The Southampton Test will be shown live on ESPN 3, while the match can also be live streamed HERE.
India will go into the third Test at the Ageas Bowl in buoyant mood in terms of the cricket they played in the last Test match, but also with a feeling of injustice boiling through, courtesy the punishment handed out to Ravindra Jadeja for his involvement in the spat with James Anderson.
"To me, it is a very hurtful decision," said a normally cool, calm and collected MS Dhoni, who was clearly seething on the inside.
So, India have that extra motivation now – to right a wrong, and just drive that knife a little deeper into the England side.
Ishant Sharma's heroics on the final day of the second Test, coupled by some comical England batting gave India that 1-0 lead, and Dhoni and co. will not want to let go of the advantage.
"In a five-Test series a 1-0 lead is not really big," Dhoni said. "So, we will not be looking at the score line yet when making the team-related decisions. We will look at the wicket and play the team that is best on that wicket."
The team has so far performed exceedingly well, with Ajinkya Rahane, the man who put India in a position to win the match with his brilliant hundred on a green-as-they-come Lord's wicket, Murali Vijay, Bhuvneshwar Kumar and Ravindra Jadeja also playing their roles quite well, while Dhoni shed that defensive captaincy cloak.
India will need another all-round performance from their player if they are to take a 2-0 lead, and what will please Duncan Fletcher and Dhoni are that the likes of Shikhar Dhawan, Virat Kohli, Cheteshwar Pujara and Mohammed Shami have not quite found their groove in this series yet, and one, two or a few might be due.
From England's perspective, in that respect, all 11 players could be in line to contribute in some shape or form, and none more so than the skipper himself – Alastair Cook.
Plenty has been written about Cook's form with the bat while his inadequacies with the captaincy role have popped up time and again. His bête noir Kevin Pietersen has already called for Cook to step down from his role as skipper, but ECB and England remain firm in backing their player.
A 5-0 Ashes thumping to Australia would have been hard to take, and a 1-0 loss to Sri Lanka, for the first time ever, difficult to comprehend and if England are to avoid another series loss -- a defeat in Southampton will make it impossible for them to come back and win the series – Cook needs to step up, with bat and mind.
"The last week's been a hard week in terms of we lost a game of cricket," Cook said. "The good news in a five Test match series is you've got chance to bounce back and you get judged at the end of the series.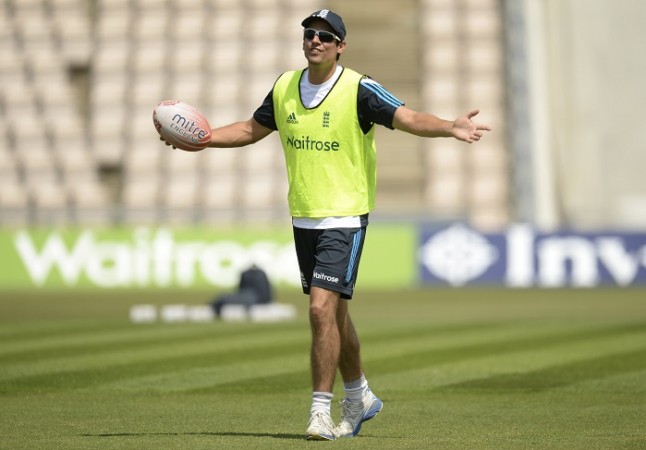 "The frustrating thing has been that we've been getting ourselves into situations, especially in the four Test matches where we've been ahead of the game by quite a long way and haven't been able to force that result.
"We must be doing a lot of things really well but at the crucial sessions, when we need to stamp our authority to get that win, we haven't been able to take [control]. It's bubbling under but the longer it goes without a win it becomes harder and harder.
Cook will hope to find that mojo which made him one of the best batsmen in Test cricket not too long ago, and do what a captain should always do – lead from the front. "It's just incredibly frustrating because, first and foremost, you're there as a batter," he added. "You're there to score runs at the top of the order, and I've done that throughout my career.
"The last year or so, I haven't managed to do that. That's a concern for me, because that's my bread and butter. There is nothing worse than walking back in and feeling you have let the other 10 guys down.
"Nothing will give me more satisfaction than if I do pull through and score runs -- because I know how much blood, sweat and tears have gone into it."
Team news: England: Both teams are expected to make changes and the hosts could be the ones to see a few more new faces, with Jos Buttler set to make his Test debut after Matt Prior decided to step down from the series to take a break. Chris Jordan or Chris Woakes could replace the out-of-sorts Ben Stokes, while both could be involved in the playing XI if Liam Plunkett is rested, with Stuart Broad despite injury worries, looking like he will play.
India: Dhoni is notoriously stubborn when it comes to making changes to his side, especially winning ones, but the captain admitted there could be some fresh blood drafted in for the third Test. "People always say, why mend something that's not broken?" Dhoni said. "But when you're on top and doing well, the others are trying to catch up with you.
"If you stay at the same position, the others are climbing up towards you. So, we will see how the wicket is and accordingly will field the best combination."
Stuart Binny is the one expected to make way for another specialist batsman in Rohit Sharma, with the former hardly used as a bowler in the first two Tests. Dhoni just does not seem to have the confidence in Binny as a bowler, and, also, with Ravindra Jadeja holding one end up with his spin, the skipper has more room to rest his three fast bowlers.
It looks like R Ashwin will have to wait for at least another Test to get an opportunity, with the pitch in Southampton, one of the fastest in England, thought to be more suited to the faster bowlers. So, India are unlikely to go in with two spinners.
Expected lineups: England: Alastair Cook (capt), Sam Robson, Gary Ballance, Ian Bell, Joe Root, Moeen Ali, Jos Buttler, Chris Woakes, Stuart Broad, Liam Plunkett, James Anderson.
India: Murali Vijay, Shikhar Dhawan, Cheteshwar Pujara, Virat Kohli, Ajinkya Rahane, Rohit Sharma, MS Dhoni (capt), Ravindra Jadeja, Bhuvneshwar Kumar, Mohammed Shami, Ishant Sharma.