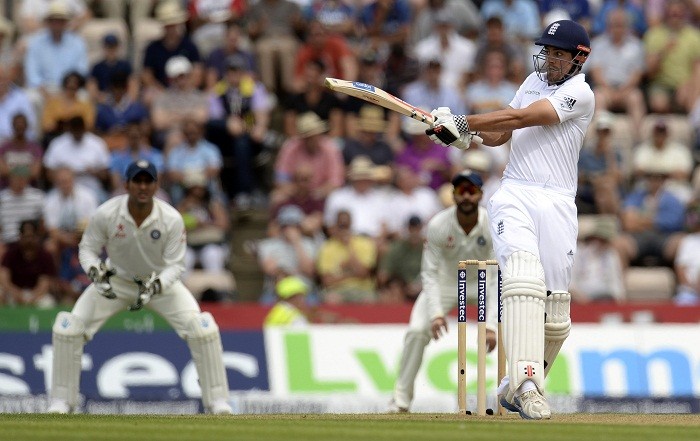 England needed a score of note from Alastair Cook, and they also desperately required a batting performance they could be proud of at the end of the day, a performance which would let them relax for once and actually look forward to the next day's play.
The pitch in Southampton looked like it would provide a bit of assistance for the fast bowlers due to the seemingly hard nature of the pitch and the bit of grass cover that was on there, but once Cook won the toss and decided to bat first, there was only one team in the game on Day 1 of the third Test.
The India bowlers toiled and toiled and, unfortunately, the fielders, when they absolutely needed to, did not back them up enough, with Cook given a major reprieve when he was on just 15.
Had Ravindra Jadeja, in the eye of a major storm prior to the start of this Test, hung onto a relatively standard slip catch low to his left, two things would have happened.
Cook would have been out for another low score, and, more importantly, it would have given Pankaj Singh, in as a late replacement for last Test hero Ishant Sharma, who was ruled out of the match on Day 1 morning with an ankle injury, his maiden wicket early in the match, which would have crucially given the confidence a rookie needs at this level and possibly allowed him to express himself more and bag a few more wickets.
Because, Pankaj Singh (20-3-62-0) did show he could trouble the batsmen, especially with a brand new red cherry in his hand, with the burly fast bowler troubling Ian Bell quite a bit towards the end of the day's play with the second new ball.
However, thinking about it in hindsight was all India could do as Jadeja's drop proved to be costly with Cook pushing his way to 80 more runs, to finish on 95, while putting on a 158-run partnership with Gary Ballance, who is having the perfect cricketing summer with the bat.
Only two wickets fell on day one of this 3rd Test as England finished on 247 for two from 90 overs, with Sam Robson (26, 59b, 4x4), looking to be a little more positive than he has been in the previous Tests, edging one off Mohammed Shami (18-3-62-1) in the 21st over to Jadeja, who clung on this time, at third slip.
That wicket was followed by the massive partnership between the two left-handers as the India bowlers failed to make any kind of impression, even if there were a few if-onlys in there, especially concerning Cook.
The England skipper would fall five runs short of what would have been his 26th Test hundred, with the left-hander catching the slightest of nicks through to Dhoni off a leg-side delivery from Jadeja (22-6-34-1).
Bell (16, 46b, 3x4) came in and just about managed to see off the final 14 overs with the impregnable Ballance (104 n.o., 204b, 15x4), with the former a little lucky not to be given out lbw off Pankaj Singh, who try as he might could not buy his maiden Test wicket.
Plenty of work to do for India as England look to press forward their momentum gained from a satisfying day one.