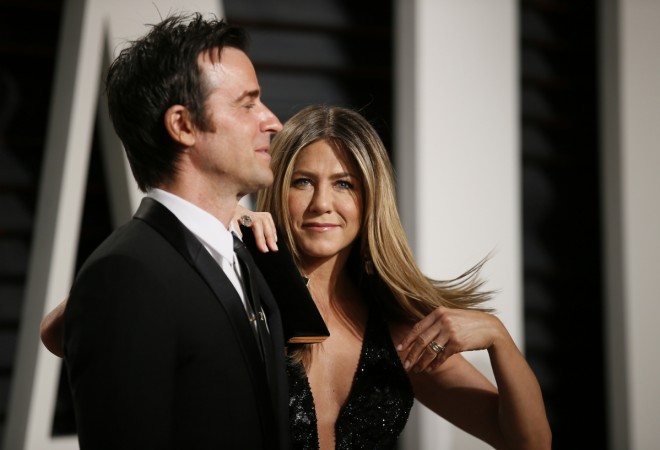 A shocking report from National Enquirer said that Hollywood actress Jennifer Aniston suffered a miscarriage when she was married to Justin Theroux. As reported by Gossip Cop, the website quotes a source to report that the Friends alum was just two months into her pregnancy but it ended due to an unfortunate miscarriage. Gossip Cop calls their claims false.
The NE report reported that their marriage was "falling apart in its first year" because Aniston's "attempt to have a miracle baby... ended in heartbreaking failure." The report goes on to allege that Aniston "suffered a tragic miscarriage in the second month of a secret IVF pregnancy."
This apparently added to the "troubled marriage." The report speculates, "The shocking loss would have only added more stress to Jennifer's troubled marriage, [the] tragedy that may have doomed her marriage."
Apparently, "losing the baby" intensified Aniston's "confused and conflicted" state of mind. Nothing is said about the aforementioned adoption plans. But the outlet does note, "Jennifer's rep both denied that the star was pregnant and that she suffered a miscarriage."
But the site contradicts its own claims by quoting the reps of the two stars retaliating the miscarriage reports. "Jennifer's rep both denied that the star was pregnant and that she suffered a miscarriage," notes the site.
Gossip Cop debunks their report to reveal that there is no truth in these claims and the site is merely re-reporting their false claims from the past. The gossip site points out that National Enquirer had wrongly reported in 2016 that Aniston had suffered a "devastating miscarriage" and a source said, "Jen was in a very dark place after she lost her baby."
The insider added back then that she and Justin were planning on adopting Mexican orphanage, which obviously did not happen.
Although there has been no "miscarriage," People magazine's sources revealed that the estranged couple wanted to start a family "early in their relationship." The source has been quoted saying, "When Jen met Justin, she had almost given up on the idea that she would have kids. They wanted to have a baby, but it didn't work out."
Despite it, the source assures that it did not "consume" the actress. "She has been sad that it never happened but it never consumed her," the insider reveals.