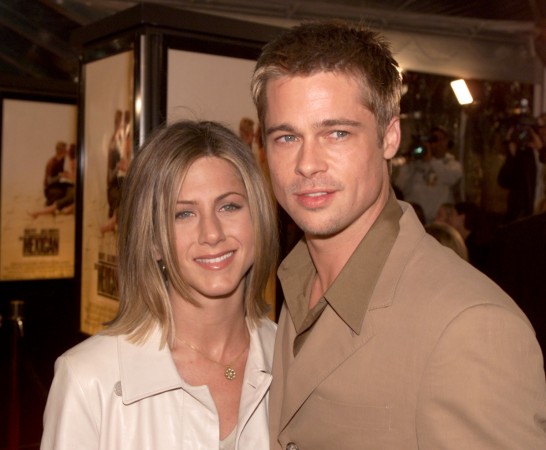 Oh boy! This is one helluva rumour. According to Hollywood insiders, ex-flames Brad Pitt and Jennifer Aniston are taking a "second chance at love" after Pitt's split from Angelina Jolie. The former couple has been making headlines ever since Jolie filed for divorce.
There were rumours from the start of this year that Pitt called up Aniston to apologise for choosing Jolie over her and mended his relationship. Now, a shocking claim reveals that with Aniston and her husband Justin Theroux having troubles, a Pitt – Aniston reunion could happen.
Also Read: This is how Angelina Jolie is taking revenge on Brad Pitt; Allied actor fears his kids are in danger?
According to In Touch magazine, the former spouses have "re-established a very special relationship" and "grown closer than ever" following Pitt's split from Jolie.
"Brad's conversations with Jen have helped him negotiate his new life as he's getting divorced. He feels a deep connection with her," a source claims.
Is Pitt really considering breaking up Aniston and Theroux's wedding? The tipster clarifies that Pitt would "never dream" of breaking up her marriage. "Brad would take a second chance at love in a heartbeat."
"He's come to realize that leaving Jen for Angelina was one of the biggest mistakes of his life. And while he's not in love with Jen, he realizes how much he does love her," the insider shares. "Even if they can't be together romantically, [Pitt] wants to work with his ex," the grapevine adds.
The alleged source also claims that Aniston and Theroux split is "not out of the realm of possibility." Apparently, Aniston and Theroux have had "their fair share of marital problems," because they "basically have very little in common" and spend most of their apart, the source explains. However, the source contradicts his/her own statement and says that the couple still share an "intense bond."
Is there a love triangle forming? Not really, claims Gossip Cop. Sources close to the Allied actor and representative of the Friends alum debunk the rumour to clarify that no such reunion is happening.