There seems to be lot of drama going on off late between Brad Pitt and Angelina Jolie. The estranged couple don't look like they are moving on so soon. Rumour has it that there is still tension between Brangelina, despite walking on separate paths since late last year.
Hollywood sources have revealed that there is a shocking reason why Pitt is unable to meet his children in public. According to insider claims, the actress is making visitation schedules with their six children "more difficult than ever."
Also Read: WHAT! Angelina Jolie, Brad Pitt SECRETLY got back together giving Brangelina a second chance?
Australian gossip magazine New Idea points out that it has been over 500 days that the father of six – Maddox, 16, Pax, 13, Zahara, 12, Shiloh, 11, and nine-year-old twins Knox and Vivienne – hasn't spent time with his children in public.
It is said that though the actor has been spending time with the children behind the doors, Jolie is making it almost impossible for him to take the kids out.
"He doesn't want bit part visits, two hours here, two hours there. He wants full, clear specific times where he can spend quality time with his kids. He'd like to see all of them together and he'd like to have one-on-one time. His kids are growing up fast and he's missing it," the source explains.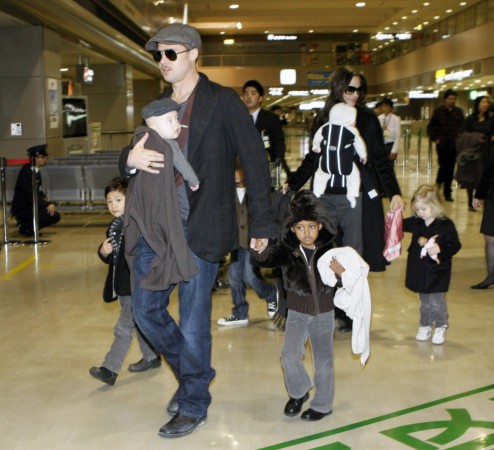 Not only is Pitt upset with the actress, another source told National Enquirer that Pitt is now even worried about the safety of their children as well. After reports sprung up about Angelina Jolie almost involving in a plot to capture African warlord Joseph Kony, a source claimed that Pitt is terrified about his children's safety.
It was reported by The Sunday Times last month that Jolie had considered working with the International Criminal Court in 2012 to help take down Kony. Referring to the incident, Hollywood insiders have claimed that the actor is scared Kony could cause harm to Jolie and the children.
"The [Lord's Resistance Army] is listed as a terrorist organisation by the United States. Angie's a UN envoy so travelling is on her agenda. Kony is not a nice guy. Despite their bitter divorce, Brad is concerned for Angie and their kids," the source claims.