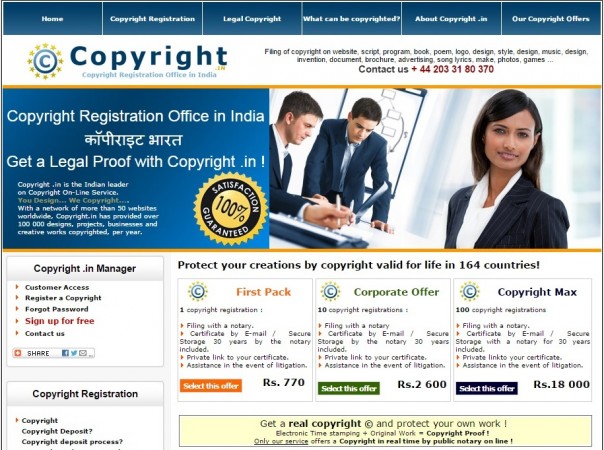 People looking to obtain copyrights for their works in India have been warned by the Department of Industrial Policy and Promotion (DIPP), which falls under the Ministry of Commerce and Industry, of a fake website which claims to be procession copyright claims in the country.
According to an official statement from the ministry, the website — www.copyright.in — is "creating a false impression that it is the official website of the copyright registration office in India and inviting applications for protection of the various works i.e. literary, artistic, dramatic, musical, sound recording and cinematographic films along with its evidences."
The website seems to be registered to one Jonathan Marciano, with the domain name being renewed last in 2014. The registration address is somewhere in Paris in France, with a postal code of 94700.
The ministry also said in the statement, "This claim is totally fraudulent and creating confusion among general public." It adds that the "authorised and authentic Copyright Office website" is www.copyright.gov.in and, "For any copyright registration and other related issues on copyright, only this official website should be used."
The statement also says about the fake portal, "DIPP and the Copyright Office have no relation with this website. Hence, all concerned are advised that they should not make any payment or submit application forms online or otherwise take any service relating to copyright registration or any other activity relating to copyright through this website. DIPP or the Copyright Office will not be responsible for any damages or loss in this regard."
It adds: "The matter has already been referred to the concerned ministries to block the fake website and initiate legal action."
Although the banner of the fake website says it belongs to the Copyright registration office of India, its contact number bears the ISD code of the United Kingdom, as is evident here:
Interestingly, Objective Concept, the company which owns this website and has had it registered also runs a fake copyright website for the United Kingdom whose domain is registered as www.copyright.co.uk, which is also registered by Marciano.
Here is the PIB release: