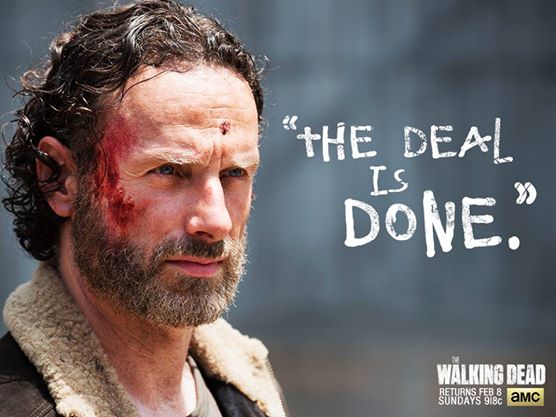 The second half of "The Walking Dead" season 5 will return on 8 February with more drama, tears and possibly deaths.
Episode 9 titled "What Happened and What's Going On" will see the gang moving on following Beth's death, and viewers will get to see a whole new aspect of the world.
Executive producer Gale Anne Hurd spoke to E! News recently saying: "There will be a lot of action, there will be a few tears, and we'll be seeing an entirely new aspect of the world that we've seen thus far. That's something that I think the comic book fans are especially looking forward to."
Meanwhile, speculations are rife that Tyler James Williams' Noah, the person for whom Beth sacrificed her life, will also meet his death in the next half of season 5.
This rumour started gaining momentum when Williams was announced as a series regular in the new "Criminal Minds" spin-off. While neither Williams nor AMC confirmed that Noah will be killed off, the difficulty to accommodate the actor in doing two different shows has fans speculating that the character will die.
While nothing is confirmed, plot spoilers hint that the group will be heading to Richmond, VA, especially after Euguene's confession ruled out Washington D.C, as a possible safe haven away from the zombies. And based on Noah's sobbing reaction in the promo, it can be deduced that something bad is awaiting the gang in Richmond,
TVLine also hinted at things getting worse for Rick and group, noting: "Proving once again that no good deed goes unpunished, Rick's attempt to honor Beth doesn't just go badly, it goes catastrophically badly."
Last we saw, Daryl and Tyreese devised a non-violent plan to rescue Beth and Carol from Grady hospital, and although Rick wasn't too happy with the plan, he reluctantly went along with it.
But things took a tragic turn when Dawn demanded Noah stay back at Grady. He reluctantly agrees, despite wanting to go home to his mom in Richmond, Virginia. But Beth took matters into her own hands by stabbing Dawn, which caused the officer to shoot Beth. Daryl then killed Dawn.