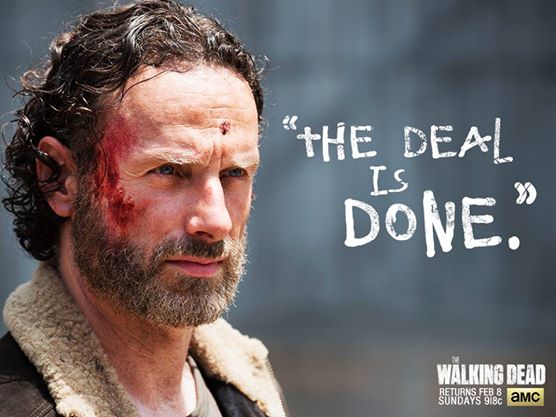 AMC has confirmed that Washington D.C., is no longer an option for Rick and gang as they move ahead to find a safe zone away from the walkers and possibly a cure for the zombie apocalypse.
Hinting what's in store for the gang in the second half of the season, AMC wrote in a post that the official poster may hold a clue or two. "The new artwork features the survivors heading down a deserted street where Abraham's note lies on the pavement, eluding to "a new world." So this begs the question: Where will they go next with Washington D.C. no longer an option?" the AMC post read.
The first half of season 5 saw Eugene confessing that he lied about a cure in D.C., and this might force the gang to proceed further to Richmond, where Noah's family is.
Noah had gone to Atlanta to search for his uncle and the first half of season 5 saw him expressing hope to reconnect with his mom, who was in the walled community back in Richmond. However, there is a possibility that the once safe community is now overrun with walkers, and the gang will proceed further to Alexandria Safe-Zone, which is a major location in the comics.
Meanwhile, AMC has released a new promo video for the upcoming half of "The Walking Dead" titled "Surviving Together." In the video, Andrew Lincoln's Rick Grimes, who appears to be leading the group, is heard saying that "Surviving together is all that matters."
While the short promo shows a number of characters back in action, Carl Grimes, Noah and Father Gabriel Stokes are not featured in the video, which shows a bunch of new footage to promote the next eight episodes of the season.
"The Walking Dead" season 5 episode 9 will air on 8 February 2015 on AMC.