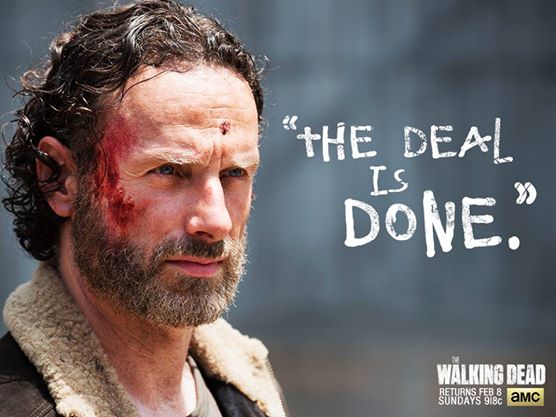 "The Walking Dead" will be back on AMC in February, and according to lead actor Andrew Lincoln the second half of the show will be different from what viewers are accustomed to.
Lincoln essays the role of Rick Grimes and he will be instrumental in helping the rest of his gang get through difficult times. As reported earlier, the death of Beth Greene is going to affect a few adversely, with Daryl Dixon and Maggie Greene going through survivor's guilt.
"The scripts that I've read and what we've been filming so far — it feels like we're moving into a new show," Lincoln told Daily Mirror. "It just feels like a new place visually and also story-wise… It's very hard not to be brutalized by this world — but there is a sense in Rick that he's going to pull people through."
In an earlier interview with Entertainment Weekly, Lincoln hinted that his character will cope better with Beth's death than his troops, as he will use the loss as a fuel to push forward.
"I think Rick is one of these people that can partition and put it aside and actually use it for fuel to push him and the rest of the group forward. I think he has to because everybody is yet again lost. We have a reunion and we're back together, but we're lost. And yet again we're in a desperate place and we're in the middle of Atlanta that is overrun. We're compromised, yet it's one of these places where he has to step forward as a leader," noted Lincoln.
"The Walking Dead" will be back with its midseason premiere on 8 February, and the episode is expected to pick up immediately after the events following Beth's death. Fans will get to see how the other members react to the loss and according to actor Chad Coleman, who essays the role of Tyreese, the group will "go through even more hell."
Meanwhile, AMC has released a poster to promote the second half of the season, and it showcases a map with the words "The new world's gonna need Rick Grimes," scribbled on it.