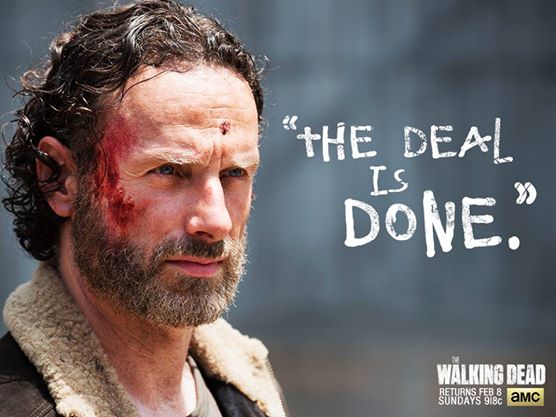 The new villains in the second half of "The Walking Dead" season 5 might be The Whisperers and not Negan as some fans have been predicting.
The Whisperers are a group of survivors who live among the walkers in and around Washington DC. They are masters of disguise and they use walkers' skin to make them invisible to the undead.
They were first introduced in issue 130 of The Walking Dead's comic book series.
Theories suggest that "The Walking Dead" has been setting the stage for the Whisperers' introduction right from season 1 when Rick and Glenn covered themselves in blood and gut. In season 3, Morgan's comment to Rick about "people wearing dead people's faces" is believed to be yet another reference to the Whisperers.
Morgan's obscure comment could play a key role in season 5, especially as he is catching up with Rick and gang. Morgan briefly showed up in season 5 premiere, and in the midseason finale he was spotted at Father Gabriel's church.
Meanwhile, fans are eagerly waiting to see when Negan, the dictator of yet another group, called "The Saviors," will be introduced. The foul-mouthed villain is notorious for delivering his brand of justice with a baseball bat wrapped in barbed wire, which he calls Lucille.
It is yet to be revealed who is going to essay the role of Negan when the character makes his television appearance, and "The Walking Dead" creator Robert Kirkman told the media back in April it will be some time before Negan was introduced.
He also noted that Negan is not an easy character to bring to life on screen, considering the character constantly uses foul language.
"Negan says a word that you can't say on television. I understand that. I think that there are ways around that," Kirkman told Business Insider. "Luckily, we're not going to have to work that out for some time. I'm not going to say when Negan will possibly show up on the show, but it's not any time soon."
"The Walking Dead" will be back on AMC on 8 February. The midseason finale ended with Beth getting shot and dying, and news from spoiler forums indicate that Rick and gang will now head to Alexandria Safe Zone, as hopes of finding a cure for the zombie apocalypse in Washington have been lost.