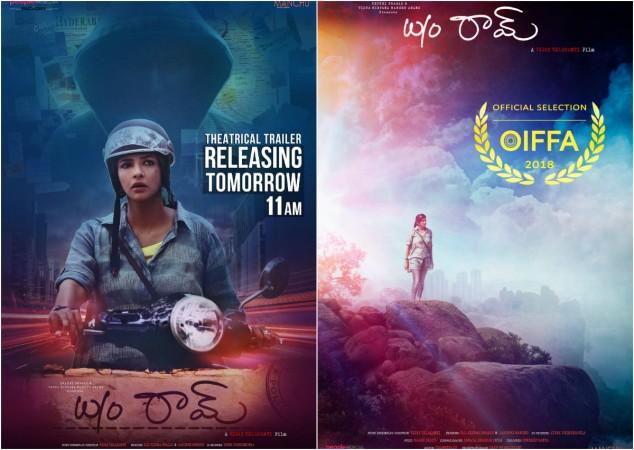 The trailer of debutante director Vijay Yelakanti's W/O Ram (Wife Of Ram) starring Lakshmi Prasanna Manchu and Samrat Reddy has received good reviews from everyone including celebs, who say they can't wait for its release.
After a brief gap, Lakshmi Manchu is returning to acting and she is teaming up with Vijay Yelakanti, who had earlier worked with SS Rajamouli as script assistant for Eega and assistant director for Bahubali - The Beginning. She will be seen playing the wife of Samrat Reddy in her comeback movie titled W/O Ram, which is produced by People's Media Factory and Manchu Entertainments.
The makers had earlier released the posters of W/O Ram, which evoked a lot of curiosity about the film. Lakshmi Manchu announced that the team would kick-start the promotion of W/O Ram on June 7. She tweeted, "Hello there! We are thrilled to announce our theatrical trailer release tomorrow at 11am along with some interesting surprises lined up from Deeksha, #WifeOfRam! Stay tuned people...❤️"
Lakshmi Manchu has released the trailer of W/O Ram on the YouTube channel of People Media Factory and tweeted the link to the video. She also wrote, "Facing the odds of the society and its people, Deeksha is on her journey towards justice. Take a look at her story as #WifeOfRam visits you in the theatres soon! #WifeOfRamTrailer."
The trailer of W/O Ram offers a faint idea about its storyline, which is going to be on the lines of Vidya Balan's Kahaani. Deeksha (Lakshmi Manchu) approaches police for help after her husband (Samrat Reddy) goes missing. When cops fail to do their jobs, she decides to step out of her comfort zone to investigate this case on her own.
The trailer of W/O Ram provides a glimpse at the roles played by various actors and its production values. As per this video, Lakshmi Manchu's performance, Vijay Yelakanti's script, picturiation, background score and special effects are going to be the highlights of the movie.
The trailer of W/O Ram has struck a chord with the viewers and generated a lot of curiosity about the movie. They took to share their reviews of the video and some of them were celebs, who call the trailer intriguing and they are eagerly waiting for the release of the movie. Here are some of the celebs' reviews.
Rakul Preet Singh: Wohooooo @LakshmiManchu this is amazinggggg !! I love thrillers n can't wait for this one #WifeOfRam check it out guys !! ❤️
Adivi Sesh: Elegant as heck ! @LakshmiManchu ! @peoplemediafcy Looking fwd to watching this film from people dear to me #WifeOfRamTrailer #wifeofram
SS Karthikeya: #WifeofRam - An intriguing trailer with awesome visuals and tinge of humour . Looks like my buddy @VijayYelakanti has cracked his debut in style. Wishing him and @LakshmiManchu and the whole team a great success. ..
Nani: All the very best lucky @LakshmiManchu .. this looks great :))
Manoj Kumar Manchu: Intense! Powerful and intriguing...Congratulations akka @lakshmimanchu and the entire team of #WifeOfRam!The visuals are super thrilling! Keep going @VijayYelakanti...❤❤Can't wait for the release...#WifeOfRamTrailer
Vishnu Manchu: #WifeOfRam Anticipating a kick ass thriller..wishing the best @LakshmiManchu
Mohan Babu M: #WifeOfRam..Strong women are need of the hour for a better society, wishing you all the best @LakshmiManchu, God bless
Aadarsh Balakrishna: Not just because I'm in it, but I'm truly, madly, deeply excited about this film. Presenting the trailer of #wifeofram starring @LakshmiManchu @priyadarshi_i directed by @VijayYelakanti Coming soon to blow your mind!