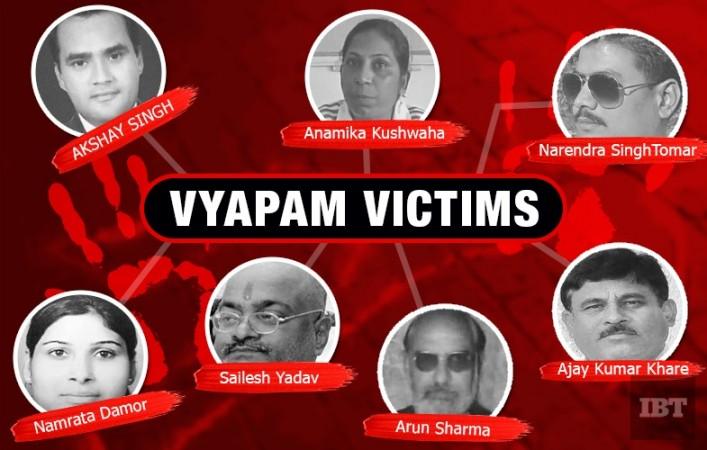 After an Intelligence Bureau (IB) officer died in a hit-and-run accident in Bhopal on June 3, the name Vyapam scam cropped up again as he joined more than 50 people who were allegedly killed because they were either directly or indirectly linked to the scam or the probe that followed.
The Vyapam scam was an entrance examination, admission and recruitment scam in Madhya Pradesh that came into light five years ago. It involved 13 exams conducted for selecting medical students and state government employees, in which the final results were reportedly rigged.
Since the time the investigations started, several people including the latest IB officer, who were involved with the scam died under mysterious circumstances, or committed suicide or succumbed to unexplained diseases.
Here is a list of people who have died after being linked to the Vyapam scam:
1. Akshay Singh
Akshay Singh, a reporter of Aaj Tak channel, who was investigating unnatural deaths in the Vyapam scam, died under mysterious circumstances near Jhabua town in Madhya Pradesh. He had told his father before his death that he was feeling uneasy. His body was found under mysterious circumstances near a railway track in Ujjain district in 2012.
2. Namrata Damor
Namrata Damor, a 19-year-old medical student, who was allegedly an accused in the Vyapam scam, was found dead on railway tracks in Ujjain six years ago. Police termed it a suicide, though according to reports, her autopsy revealed that she died of "violent asphyxia as a result of smothering".
3. Narendra Singh Tomar
An accused in the scam, Narendra Singh Tomar died under mysterious circumstances in an Indore jail in 2015. The 29-year-old had complained of chest pain. He was rushed to the hospital but doctors declared him dead on arrival.
4. Shailesh Yadav
Madhya Pradesh Governor Ram Naresh Yadav's son Shailesh, who was one of the accused in the Vyapam scam, was found dead at his father's residence on March 25, 2015. However, police could not establish the cause of death. "He was under stress after his name figured in the Madhya Pradesh Professional Examination Board or Vyapam scam. This might be the reason behind his death as far as we think," said a family friend and Congress leader Satyadeo Tripathi, reported Business Line.
5. Arun Sharma
The dean of a medical college in Jabalpur in Madhya Pradesh, Arun Sharma, was found dead at a hotel in Delhi in 2015. The college where Sharma was the dean was linked to the Vyapam scam.
6. DK Sakkale
Arun Sharma had taken over as dean of the NS Medical College only two months ago after former dean, Dr DK Sakkale was found burnt to death at his home in 2014.
7. Rajendra Arya
Dr Rajendra Arya, 40, who allegedly helped two students clear Pre-Medical Tests, died at Birla Hospital in Gwalior after falling victim to some mysterious liver infection.
8. Anand Singh
Anand Singh Yadav, a resident of Fatehpur (UP) and a student of Allahabad Medical College, died in a road accident in UP in 2013.
9. Anuj Uikey
Anuj Uikey was accused to be a middleman in the scam. The student of Sagar Medical College died after his car crashed into a truck at a curve on Hoshangabad Road near Betwa Dhaba in Raisen. Two other students who were with him were also killed.
10. Brijesh Rajput
Brijesh Rajput, 25, who was a resident of Rajput Veterinary College, Jabalpur in Madhya Pradesh, died an unnatural death.
11. Gyan Singh
A medical student, Gyan Singh Jatav, allegedly died of liver and kidney failure on October 26, 2010. He belonged to Ruri village near Lahar in Bhind district.
12. Manish Kumar Samadhia
Manish Kumar Samadia, who was also allegedly involved in the scam, died due to reasons unknown so far.
13. Lalit Kumar Pashupatinath Jaiswal
Lalit Kumar, who was a 28-year-old medical student, was found dead under a bridge in Morena district in 2015.
14. Pramod Sharma
As per reports, Sharma was found hanging by a ceiling a fan in 2013. "He fell into bad company. After a couple of years, he set up coaching centres for students in Gwalior, placed big ads in the local press. Then he went bankrupt," said his brother, as reported.
15. Devendra Nagar
The only earning member of his family, Nagar died following a motorcycle accident in 2013. He was 29 years old.
16. Banti Sikarwar
Banti Sikarwar, 32, hanged himself at his ancestral home in Gwalior's Sainik Colony. "They say he was a middleman (in the Vyapam scam). Even if that is true, how big could his crime be that he had to suddenly kill himself?" said his wife.
17. Dinesh Jatav
Dinesh Jatav died in a road accident near Joura in Morena district in 2014. He was only 28 years old.
18. Anantram Tagore
Anantram Tagore was accused of getting his son Jagdish a job in the Railway Protection Force (RPF) through the Vyapam scam. The 71-year-old, a resident of Uttampura in Morena, allegedly died of cancer in 2012.
19. Deepak Verma
Deepak Verma, who was allegedly a middleman in the scam, died after a road accident. However, the investigation didn't reveal anything.
20. Shyamvir Yadav
Similar to Deepak Verma, Shyamvir Yadav too died after an accident and investigations were futile.
21. Anshul Sachan
Alleged middleman Anshul Sachan died in a road accident in 2010. He was from Hoshangabad district.
22. Vikas Pandey
Vikas Pandey, whose involvement in the scam isn't specified, died due to a brain haemorrhage.
23. Prem Lata Pandey
In 2013, Premlata Pandey died of liver cancer under mysterious circumstances.
24. Anamika Kushwaha
Anamika Kushwaha, a trainee police sub-inspector, was accused of getting her recruitment exam fixed. She drowned in a pond under mysterious circumstances.
25. Ravindra Pratap Singh
Another accused student, Ravindra Pratap Singh died after consuming poison in 2015. The incident happened in Singrauli district.
26. Amit Sagar
Amit Sagar, like Anamika, drowned in a pond in Sheopur district in 2015. Sagar was a veterinary student.
27. Rajendra Arya
Dr Rajendra Arya, 40, died at a hospital in Gwalior. Arya who had been on bail for a year, had gone to Kota.
28. Vijay Singh
Allegedly a middleman, Vijay Singh died due to unknown reasons. His body was found at a lodge in Chhattisgarh. He was a pharmacist and a resident of Madhya Pradesh.
29. Aditya Chaudhary
Aditya Chaudhary, who was also known as a middleman in the scam, allegedly committed suicide in 2012.
30. Arvind Shakya
Arvind Shakya, another middleman, was allegedly pushed off a bus in 2012.
31. Kuldeep Marawi
Kuldeep Marawi also died in a road mishap in May 2013 under mysterious conditions.
32. Tarun Machchar
The 19-year-old student of Gandhi Medical College in Bhopal was riding a bike as pillion with his friend when the latter lost control and hit a road divider. While he died after the accident, his friend survived with injuries to his hands.
33. Deepak Jain
Deepak Jain, an alleged middleman in the scam, reportedly died in a road accident in Gwalior in 2014.
34. Narendra Rajput
If reports are to be believed, Narendra Rajput succumbed to excruciating chest pain. However, the circumstances remained unclear.
35. Vikas Singh
In 2009, Vikas Singh died due to a deadly reaction from some medicine. He was also a middleman in the scam.
36. Aditya Chaudhary
In 2012, another middleman Chaudhary was reported to have committed suicide.
37. Bunty Sikarwar
Similar to Chaudhary, Bunty Sikarwar committed suicide in Gwalior.
38. Lalit Golaria
In 2015, Golaria, a student, was found dead under a bridge in Morena, Madhya Pradesh.
39. Sanjay Singh Yadav
Sanjay Singh Yadav, 35, died of liver ailment at a private hospital in Bhopal in 2015.
40. Ramakant Pandey
Ramakant Pandey, a suspect in the scam, committed suicide in Tikamgarh, Madhya Pradesh.
41. Ramendra Singh Bhadoria
Ramendra, who was a 30-year-old student, was found hanging at his home in Gwalior. His family claimed that he was being mentally tortured by those involved in the scam to keep his mouth shut.
42. Ashutosh Tiwari
Ashutosh reportedly died of illness related to alcohol.
43. Dinesh Yadav
Yadav died of brain haemorrhage under mysterious circumstances.
44. Ravendra Prakash
Ravendra Prakash Singh, an MBBS student from Singrauli, committed suicide in 2014.
45. Ajay Kumar Khare
Intelligence Bureau (IB) officer Ajay Kumar Khare, who was involved in the investigation of the MP Professional Examination Board scandal (Vyapam scam), died in a road accident this month.