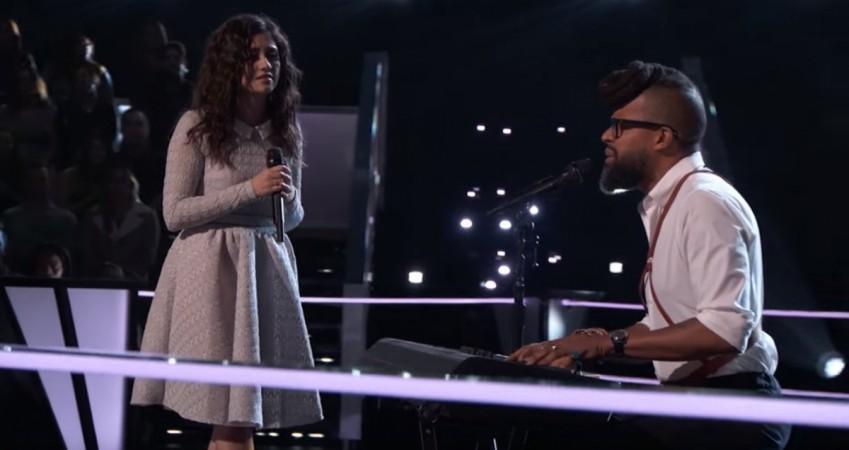 The number of contestants in The Voice season 14 is down from 48 to 32 after the battle round, which was screened in four episodes over two weeks. The competition will get tougher as it moves to the knockout round next week.
The contestants, who survived the battles, will take on their own team-mates again but they will perform separately and on different songs unlike in the battle round where artists had to perform a duet. Coaches – Adam Levine, Alicia Keys, Kelly Clarkson and Blake Shelton – can keep four singers (out of eight) from their own teams in this round and steal one losing contestant, which means the number of singers will be down to 20 after the knockouts.
The Voice season 14 battles 4 recap
Jackie Verna and Stephanie Skipper of Team Adam started off the fourth and final episode of The Voice USA 2018 battle round with the song These Dreams by Heart. It was a decent performance, and Jackie eventually went on to win the battle.
The next to hit the stage were Team Alicia's Livia Faith and Terrence Cunningham. They took on the song Stars by Grace Potter and the Nocturnals. It was a beautiful performance, and no doubt the best on the night but one of them had to leave the show as Alicia was the love coach with a steal left. Well, Alicia picked Terrence.
The final battle of the night was between Dallas Caroline and Spensha Baker of Team Blake. They put up a beautiful performance of the song I Could Use a Love Song by Maren Morris. Spensha turned out stronger and her coach picked her for the knockouts. However, Dallas was lucky as it was the last battle of the night and Alicia had to use her steal. She joined Team Alicia.
The montage clip showed Angel Bonilla and Gary Edwards of Team Adam taking on Whitney Houston and Mariah Carey's When You Believe, Team Blake's Austin Giorgio and Brett Hunter took on Me and Mrs. Jones by Billy Paul, and Alexa Cappelli of Team Kelly sang Pray by Sam Smith featuring Logic. Gary, Austin and Alexa moved to the next round. Alexa won the battle by default after Hannah Goebel left the show for personal reasons.
Here is complete list candidates who have progressed to the knockouts:
Adam Levine: Rayshun LaMarr, Jackie Foster, Reid Umstattd, Jordyn Simone, Mia Boostrom, Drew Cole, Jackie Verna, Gary Edwards
Alicia Keys: Sharane Calister, Christiana Danielle, Johnny Bliss, Kelsea Johnson, Miya Bass, Britton Buchanan, Terrence Cunningham, Dallas Caroline
Kelly Clarkson: Brynn Cartelli, Tish Haynes Keys, D.R. King, Jorge Eduardo, Jamella, Kaleb Lee, Justin Kilgore, Alexa Cappelli
Blake Shelton: Dylan Hartigan, Kyla Jade, Jaron Strom, Pryor Baird, WILKES, Jaclyn Lovey, Austin Giorgio, Spensha Baker