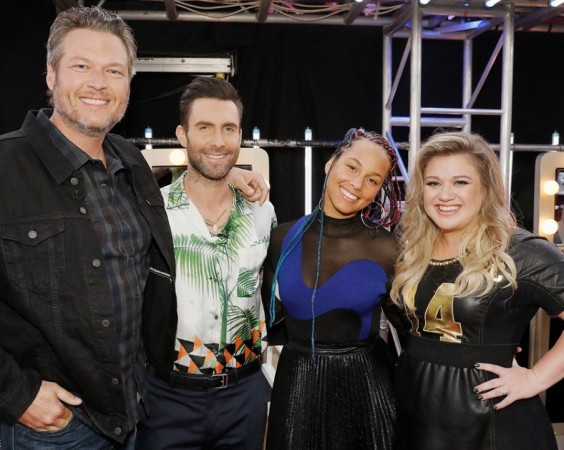 The Voice season 14 will move to the Battles round next week after the final blind audition is screened Tuesday. All the coaches — Blake Shelton, Adam Levine, Alicia Keys and Kelly Clarkson — will have 12 contestants each in their respective teams by the end of the blind auditions.
A total of 10 contestants were selected in the last episode, which means only five more spots are left. Adam has 10 singers in his team so far, which means he has two slots left in his team, while the rest of the coaches can choose only one contestant each on Tuesday.
The Voice Season 14 final blind audition or episode 6 will be telecast Tuesday at 8 pm EST / 5 am PT / 6:30 am IST (Wednesday) on NBC. It will also be live-streamed on NBC's official website (restricted to certain areas).
The Voice season 14 blind audition 5 recap
The video of Stephanie Skipper's audition was released a couple of days before the actual screening. She performed Kelly Clarkson's Piece By Piece, which was a brave move, and it was a good performance. What we didn't know was whether she joined Team Adam or Team Blake. It was revealed Monday that she chose Adam to be her coach.
Adam Levine added three more contestants — Tish Haynes Keys (she sang Aretha Franklin's Chain of Fools), Miya Bass (she sang Julia Michaels' Issues), and Gary Edwards (he sang Marvin Gaye's What's Going On) — to his team.
Alicia Keys took the number of contestants in her team to 11 after choosing Livia Faith (she sang The Mamas and The Papas' Dream a Little Dream of Me) and Shana Halligan (she sang Cher's Bang Bang).
Team Kelly is also almost full after two more contestants were added in the last episode. Teana Boston, who sang Rihanna's Unfaithful, and Hannah Goebel, who took on the song If I Ain't Got You by Alicia Keys, joined the team.
Blake Shelton also added two more contestants to his team in the previous episode, taking the total number to 11. He roped in Bransen Ireland (he sang Don Williams' Tulsa Time) and Jordan Kirkdorffer (he sang In Case You Don't Know by Brett Young).
Team standings after audition 5
Team Adam: Rayshun LaMarr, Drew Cole, Levelle Davison, Mia Boostrom, Reid Umstattd, Angel Bonilla, Stephanie Skipper, Tish Haynes Keys, Maya Base, Gary Edwards
Team Alicia: Britton Buchanan, Kelsea Johnson, Jaclyn Levey, Christiana Danielle, Jamai, Johnny Bliss, Terrence Cunningham, Jordan Symone, Megan Lee, Livia Faith, Shana Halligan
Team Kelly: Brynn Cartelli, D.R. King, Justin Kilgore, Molly Stevens, Dylan Hartigan, Jackie Foster, Jorge Eduardo, Jamella, Alexa Cappelli, Teana Boston, Hannah Goebel
Team Blake: Kyla Jade, Kaleb Lee, Pryor Baird, Brett Hunter, Austin Giorgio, Spensha Baker, Wilkes, Jaron Strom, Jeslee, Bransen Ireland, Jordan Kirkdorffer