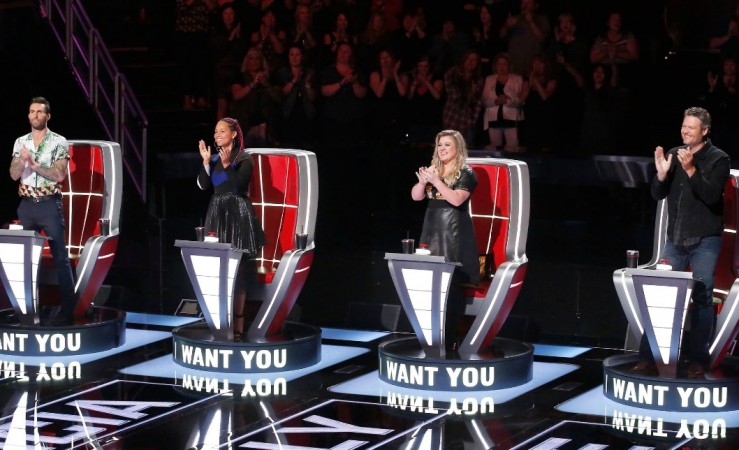 There are quite a few popular singing reality television shows around, but what sets The Voice apart is its unique style of selecting contestants — the "blind audition."
It's interesting as coaches turn their chairs for contestants based purely on their voice and not on looks or other factors that could come into play while choosing participants. This segment of The Voice season 14 (USA) will come to an end after two episodes this week.
The Voice season 14 blind audition 5 will be screened Monday night (Tuesday in India). Adam Levine still needs six more contestants to fill his team, while the other coaches — Blake Shelton, Alicia Keys and Kelly Clarkson — can pick only three contestants each to fill their respective teams. This means the four coaches will select 15 contestants in two blind-audition episodes that will be screened this week.
The Voice season 14 blind audition episode 5 performances will be telecast on Monday at 8 pm EST / 5 am PT / 6:30 am IST (Tuesday) on NBC television channel. It will also be live-streamed on NBC's official website (restricted to certain areas).
The makers of The Voice have given a sneak peek of this week's blind audition episodes by uploading a video of one of the performances. Stephanie Skipper wooed Adam and Blake with her rendition of Kelly Clarkson's "Piece By Piece" but the original singer didn't turn her chair.
"I'm so sad...I know this is embarrassing...I'm crying. I'm so mad I didn't turn. The fact that you picked that song...cool...I'm so sorry," said an emotional Kelly.
Then the battle began between Adam and Blake to convince the contestant to choose their respective teams. You will have to watch the show to know which team Stephanie joins.