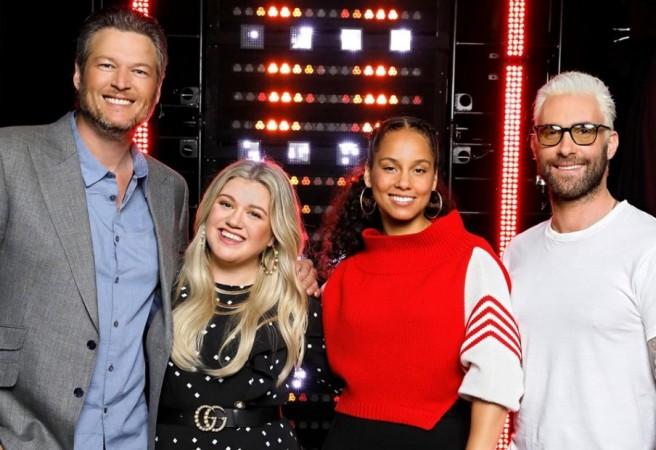 The Voice USA has returned with Blake Shelton, Adam Levine, Alicia Keys and Kelly Clarkson in the red chairs. The Emmy Award-winning series' Season 14 blind auditions started last week and 13 contestants have managed to impress the coaches in the two episodes screened so far.
Blind auditions for The Voice Season 14 will return on Monday with more contestants taking the stage in the hope of being picked by one of the coaches. Sometimes, it's the other way round with participants facing the dilemma of choosing a team out of four – Team Blake, Team Adam, Team Alicia, and Team Kelly.
The Voice Season 14 blind auditions 3 spoilers
The Voice YouTube channel has given a sneak peek of Season 14 blind auditions ahead of its screening on Monday. Johnny Bliss wooed the coaches as well as the audience with his rendition of Puerto Rican composer Rafael Hernández Marín's song "Preciosa."
It was Adam, who first pressed the red button before Alicia and Kelly followed almost simultaneously. Blake also joined the fight by turning around for Johnny. However, Adam used his lone "Block" on an unsuspecting Kelly and not Blake, who blocked him in one of the earlier episodes. It left Kelly disappointed but there is much she could do, as the show has added a new rule that allows the coaches to block one of their fellow colleagues from the contestant they had turned for during the blind auditions.
However, the sneak peek didn't reveal the team Johnny has chosen.
Interestingly, Blake blocked Adam in last week's episode but the contestant went on to join Team Alicia. Then Alicia blocked Blake from a country singer who would potentially join his team. The participant chose Team Kelly instead of Alicia.
Where to live stream The Voice Season 14 blind auditions 3
The Voice Season 14 blind auditions 3 will be telecast on Monday, March 5 at 8 pm EST / 5 am PT / 06:30 am IST (Tuesday) on NBC. The episode will also be live-streamed on NBC's official website (restricted to certain areas).
List of participants in each team:
Team Adam: Rayshun LaMarr, Drew Cole, Davison
Team Blake: Kyla Jade, Kaleb Lee, Pryor Baird
Team Alicia: Britton Buchanan, Kelsea Johnson, Jaclyn Lovey
Team Kelly: Brynn Cartelli, D.R. King, Justin Kilgore, Molly Stevens, Dylan Hartigan