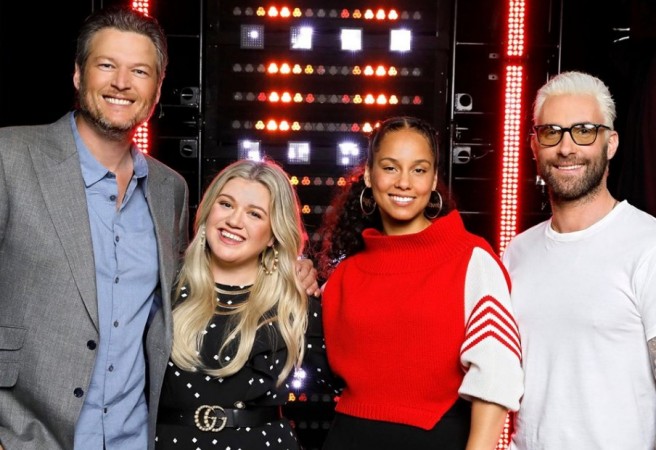 America's popular reality television talent show and Emmy Award-winning series The Voice is back with Season 14. We see some changes in almost every season, and it has happened this time too with Alicia Keys returning to the show and Kelly Clarkson joining as a new coach to replace last season's coaches Miley Cyrus and Jennifer Hudson.
Meanwhile, the old boys -- Blake Shelton and Adam Levine -- who have been there as coaches since the show started, are still there. In fact, the show won't be complete without their hilarious exchange of banters.
In Season 14, the coaches can save an artist they have eliminated in the knockout round but the contestant can choose which team to join if another coach has pressed the steal button.
For the uninitiated, there is another change in The Voice USA 2018 (Season 14). A new feature called "Block" has been introduced to allow the coaches to block one coach from the contestant they turned for during the blind auditions. The coaches can use this "block button" once in the season.
The new feature, or rather a "banter" button can be fun as well as annoying. What if a contestant wants to be in the team of a coach who has been blocked? What if a coach really wants a contestant on his or her team?
Well, there can be disappointments from contestants, coaches, and audience but twists and turns make TV reality shows interesting. That's what we saw in the blind audition first episode when both Blake Shelton and Adam Levine were barred from convincing their favorite contestants to join their teams.
Alicia Keys and Blake Shelton didn't take much time to hit their buttons when Britton Buchanan, 17, from Sanford, North Carolina took on the song "Trouble" by Ray LaMontagne. As expected, Adam Levine joined the party by turning around for the young contestant only to see the word "BLOCKED" before him instead of his name. It was Blake who barred Adam from taking the participant to his team.
The irony was that Britton, who is a fan of Adam, didn't choose Blake as his coach. He joined Team Alicia.
Blake had the taste of his own medicine when Alicia Keys blocked him when country singer Justin Kilgore, 30, impressed all the coaches with his rendition of Chris Young's Tomorrow. It was obvious that Blake would do all he could, perhaps even mention his winning record on The Voice to make the contestant join his team but he was left helpless. Justin joined Team Kelly.
Kelly ended up with five contestants in her team after the first two episodes of the blind audition, while Adam, Alicia and Blake have three participants each in their respective teams.
The Voice is telecast twice a week – Mondays and Tuesdays – on NBC Television.