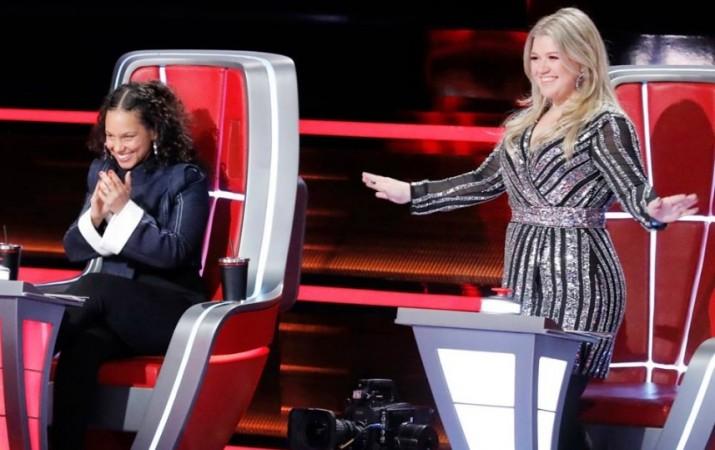 Some may say the battle round in the popular reality television show The Voice isn't fair as some contestants have to perform duet on songs that clearly suit the voice of their opponents. Well, that portion of the season 14 was wrapped up earlier this week. Contestants will take on each other again in the next round called "knockouts" but will perform different songs.
The Voice season 14 knockout round will start Monday, April 2, and will wrap up in three episodes, after which it will go to the live playoffs.
Coaches – Adam Levine, Alicia Keys, Kelly Clarkson and Blake Shelton – have eight artists each in their respective teams after the battles.
The Voice USA 2018 knockouts spoilers
A total of 32 contestants, who survived the battles, will perform in the knockouts. They will compete with their own team-mates like in the battles but this time, they will made to sing different songs, which means they will have more room to showcase their strength and talent.
The coaches had two steals in the battles but they can steal only one losing artist from another team in the knockouts. However, they can save one artist (from their own team) who lost in the knockouts. So, each team will move to the live playoffs with six artists each (4 winning singers+one steal+one save) when the knockout round ends.
Interestingly, winners of the previous seasons are returning to show, not as contestants but as advisors. Jordan Smith (season 9 winner) is the advisor for Team Adam in the knockouts, Chris Blue (season 12 winner) for Team Alicia, Cassadee Pope (season 3 winner) for Team Kelly, and Chloe Kohanski (season 13) for Team Blake.
Team standings in The Voice season 14 knockout round:
Adam Levine: Gary Edwards, Rayshun LaMarr, Jackie Foster, Mia Boostrom, Reid Umstattd, Jackie Verna, Jordyn Simone, Drew Cole
Alicia Keys: Sharane Calister, Dallas Caroline, Christiana Danielle, Britton Buchanan, Johnny Bliss, Kelsea Johnson, Miya Bass, Terrence Cunningham
Blake Shelton: Kyla Jade, Dylan Hartigan, Pryor Baird, Jaron Strom, WILKES, Spensha Baker, Jaclyn Lovey, Austin Giorgio
Kelly Clarkson: Brynn Cartelli, Alexa Cappelli, Tish Haynes Keys, Jorge Eduardo, D.R. King, Jamella, Justin Kilgore, Kaleb Lee