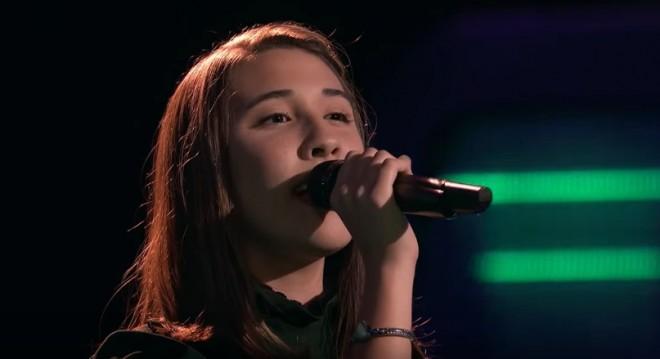 The Voice USA Season 12 Blind Audition is coming to an end – just one more episode to go, to be precise. The sixth episode of the audition was aired on Monday night and 11 more contestants have been added.
Blind Audition 6 recap:
Kenny P, 30, from Cleveland took on the song, "Hello, It's Me" by Todd Rundgren, and it was a decent performance. Lovebirds Blake Shelton and Gwen Stefani turned their chairs for him. Kenny chose Team Gwen.
[Also read: The Voice USA 2017 Blind Auditions final week spoilers]
Enid Ortiz, 25, performed "All I Ask" by Adele. She started off on a shaky note, but caught the momentum as it progresses. Blake Shelton pushed his "I want You" button at the eleventh hour, leaving the contestant ecstatic.
RJ Collins, 18, impressed Alicia Keys and Adam Levine with his rendition of "Purpose" by Justin Bieber. He joined Team Alicia.
TSoul, 29, took on the song, "Take Me to the River" by Talking Heads. The fight began between Adam and Blake to convince him to join their respective teams. He chose Team Blake.
Hanna Eyre, 15, sang the song, "Blank Space" by Taylor Swift. Adam, Gwen and Blake turned their chairs for the teenager. They heaped praises on her with the hope of netting her on their respective teams, and she finally chose Adam as her coach.
Hunter Plake, 20, rendered "Carry On" by Fun and got the attention of the ladies – Gwen and Alicia. He chose Team Alicia.
Nala Price, 17, sang "Send My Love (to Your New Lover)" by Adele. Adam and Gwen turned their chairs for her. She joined Team Adam.
Sammie Zonana, 24, performed "Dangerous Woman" by Ariana Grande and it was a good rendition. Gwen pushed her "I Want You" button for her.
Valerie Ponzio, 32, sang the song, "Ring of Fire" by Johnny Cash and impressed with all coaches with her beautiful rendition. The coaches fought for her, but being a country girl, she joined Team Blake.
Andrea Thomas took on the song, "Baby, Now that I've Found You" by The Foundations and joined Team Blake, while Davina Leone, who sang Sia's "Cheap Thrills," joined Team Gwen.
Team Standings:
Team Adam: Johnny Hayes, Mark Isaiah, Jesse Larson, Julien Martinez, Kawan Debose, Taylor Alexander, Gabi Borromeo, John West, Malik Davage, Hanna Eyre, Nala Price
Team Alicia: Anatalia Villaranda, Felicia Temple, Lilli Passero, Autumn Turner, Quizz Swanigan, Jack Cassidy, Missy Robinson, Lauryn Judd, R.J. Collins, Hunter Plake
Team Gwen: Stephanie Rice, J Chosen, Savannah Leighton, Brandon Royal, Aaliyah Rose, Troy Ramey, Johnny Gates, Caroline Sky, Kenny P, Davina Leone, Sammie Zonana
Team Blake: Brennley Brown, Lauren Duski, Aliyah Moulden, Ashley Levin, Casi Joy, Micah Tryba, Josh Hoyer, Enid Ortiz, TSoul, Valerie Ponzio, Andrea Thomas