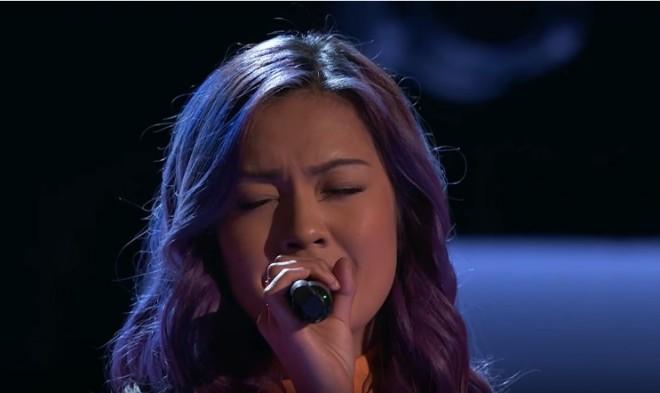 The Voice USA 2017 Season 12 is into the second week of its premiere. As expected, performances of 11 contestants were telecast in the fourth episode of the Blind Auditions and nine of them were selected.
The Voice USA 2017 Blind Audition 4 recap:
Micah Tryba, 24, from Wheaton, Illinois took on the song "I'm Every Woman" by Chaka Khan. Lovebirds Blake Shelton and Gwen Stefani turned their chairs for her. She joined Team Blake.
[READ: The Voice USA 2017 Season 12 Blind Auditions 4 spoilers]
Troy Ramey performed Cat Steven's "Wild World." All the coaches turned their chairs for the 32-year-old from New York. It appeared like he would go for Blake at one point of time, but he chose Gwen to be his coach.
The next to take t he stage was Jack Cassidy, an 18-year-old from Westlake Village, California. He performed "One of Us" by Joan Osbourne and got green signal from Adam Levine and Alicia Keys. He chose Team Alicia.
Kawan Debose, 30, from Miami, Florida performed "Let's Get It On" by Marvin Gaye. Adam Levine, Gwen Stefani and Blake Sheldon pressed their "I Want You" buttons for him. He chose Adam as his coach.
Taylor Alexander, 25, from Flowery Branch, Georgia, sang Cher's "Believe." Adam Levine was the only coach who turned his chair.
Gabi Borromeo, 22, from Seattle, Washington performed Leona Lewis' song "Happy." Blake turned his chair for her first but Adam did the trick by going to the stage to hug her. She chose Team Adam.
Missy Robinson, 34, from Sacremento, California sang Alessia Cara's "Scars To Your Beautiful." Blake and Alicia pushed their "I Want You" buttons. She chose Alicia.
Aaliyah Rose, 14, from Provo, Utah performed Andra Day's "Rise Up." Gwen Stefani was the only coach who turned the chair for her.
John West was the last performer of the night. The 17-year-old from Glendale, Arizona, sang Duran Duran's "Ordinary World" and got the four chairs turned. He joined Team Adam.
Adam got four artistes on the night, taking his team to eight contestants, while Alicia Keys has seven, and Blake Shelton and Gwen Stefani have six each in their respective teams.
Here is list of contestants after Blind Auditions 4:
Team Alicia: Anatalia Villaranda, Felicia Temple, Lilli Passero, Autumn Turner, Quizz Swanigan, Jack Cassidy, Missy Robinson
Team Gwen: Stephanie Rice, J Chosen, Savannah Leighton, Brandon Royal, Aaliyah Rose, Troy Ramey
Team Adam: Johnny Hayes, Mark Isaiah, Jesse Larson, Julien Martinez, Kawan Debose, Taylor Alexander, Gabi Borromeo, John West
Team Blake: Brennley Brown, Lauren Duski, Aliyah Moulden, Ashley Levin, Casi Joy, Micah Tryba