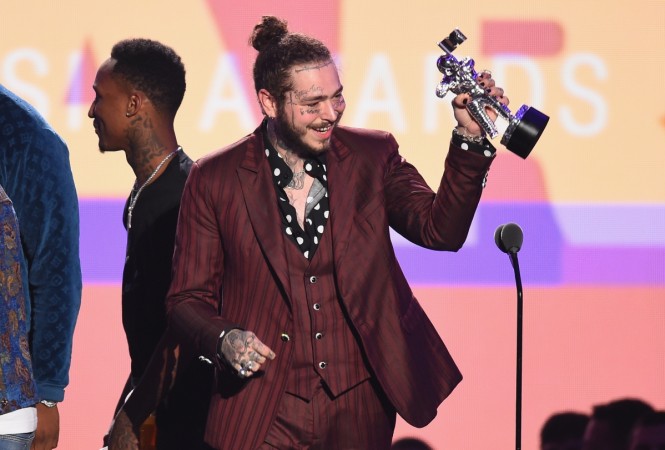 Celebrities are familiar with social media hatred. Stars usually wake up with several people hurling abuses, spouting anger against their work and trolling them. However, MTV VMA 2018 winner Post Malone was shocked when fans wished he was dead after his private plane was forced to make an emergency landing in New York after the flight's tires blew off at the time of take-off.
The musician, who won song of the year for his song "rockstar" feat. 21 Savage at the MTV Video Music Awards 2018, was on board with 16 other passengers.
Soon after he landed safely, the songster took to Twitter to update fans about his whereabouts and share his despair over how many people wanted him dead.
"I landed guys. Thank you for your prayers. Can't believe how many people wished death on me on this website," he tweeted. "F— you. But not today," he added.
i landed guys. thank you for your prayers. can't believe how many people wished death on me on this website. fuck you. but not today

— Beerbongs & Bentleys (@PostMalone) August 21, 2018
The Psycho singer also elaborated the scary incident in a FaceTime conversation with TMZ. "Oh my God. I hate flying in general. I don't even know what to say, man. I'm shook. One hell of a team on that aircraft. We're here. And we're here on Earth. And I need some beer. And I need some wine. At the same time, mixed together," Malone said.
Video of Post Malone's plane making an emergency landing:
I'm not even sure if anyone wants to watch this... but here's a Post Malone Emergency Landing Live Feed, one more plane will land and then Post's plane will land in about 5 minutes. https://t.co/kXYPD2TrMX

— Sonny Lucas (@iSonnyLucas) August 21, 2018
The flight landed in New York after circling around for five hours. The aircraft took off from New Jersey and was headed to Luton, for the 23-year-old's next show.
Malone's manager Dre London took to Instagram to share a photo from inside the flight before the team landed. "Been circling the air for hours but we're good. We're good. We landed safely. I heard it's all over the news and how crazy it is," he said.