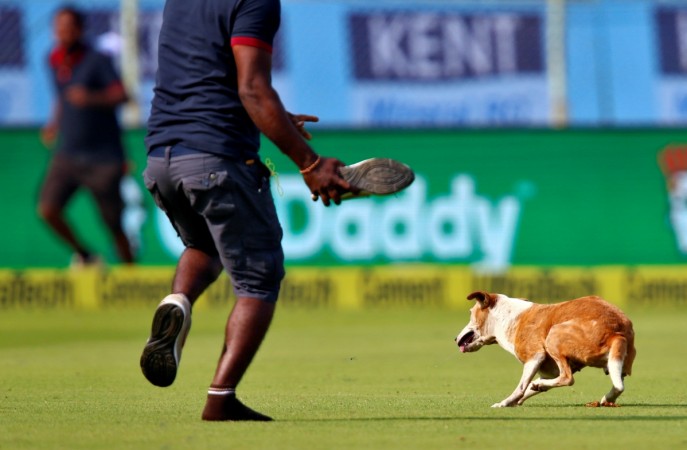 Virat Kohli and Cheteshwar Pujara scored a ton each on the first day of the second Test match between India and England in Visakhapatnam (Vizag) on Thursday. Okay, that was kind of expected. But a stray dog helping the teams get a premature tea break? Maybe not! Read all that happened as the dog enjoyed a field day.
An instant buzz generated on social media with various users questioning what the dog was actually up to and despite being shooed away, but the canine kept returning to the ACA-VDCA cricket stadium. Obviously, the attention it received from the two on-field umpires, batsmen Pujara and Kohli, the entire England team as well as the vast audience was a motivation in itself not to leave the field.
Post tea, the dog did vanish from the field; but guess where we made an appearance this time around? On Twitter! Can't believe it? Check the photo below.
While the bio of the Vizag dog does give us an idea that it doesn't like to see Indian batsmen score a lot of runs, a little more inspection into the accounts he follows on the social media platform assures us that he is a complete England fan.
Apart from Kohli, his 'following' list dominates former and present England cricketers as well as a few British journalists.
Okay, so now that the identity and intention of the Vizag dog are revealed, it needs to be seen if he makes an entry to motivate his favourite team when it is the time for Alastair Cook and men to take the bat in their first innings.