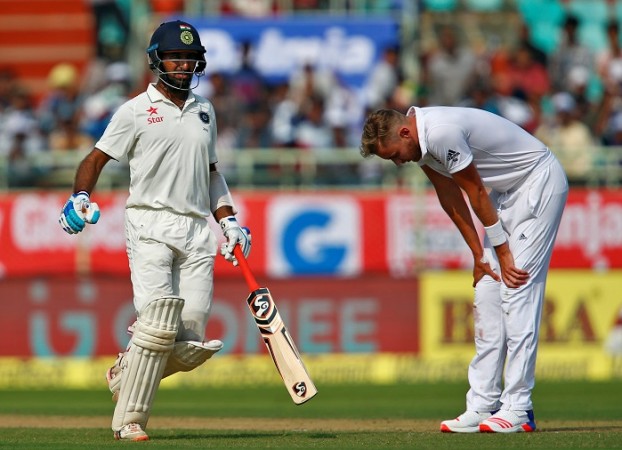 A stray dog running onto the ground and disrupting proceedings for a few minutes in a sporting event is something that has happened quite a few times before. But a stray dog forcing the umpires to take an early tea, before the scheduled over was completed? Now, that's a special little dog isn't it?
Running onto the pitch after Stuart Broad had bowled two balls of what would have most probably been the final over before Tea of the second India vs England Test match on day one, the dog, a cute brown and white little thing, gave the groundsmen the runaround.
It was like he was saying "hey, everyone is clapping for me, I am entertaining, I am enjoying the attention, so let me bask in the spotlight a little."
After running around for a bit, it looked like the dog had finally said "Ok, my time is up," but you knew this was the kind of dog that loves the attention, a "I want to be a celebrity" dog, when he did the fake, lulling the groundsmen into thinking the chase was over act quite brilliantly, before sneaking back onto the ground again.
By now, all the players could not help but chuckle as a couple of not-so-fit men – not that had they been Usain Bolt-like it would have made much of a difference – ran behind the "celebrity" dog, coaxing and pleading it to go out of the playing area.
Nope, the dog was having none of it. He/she ran around the ground, did a circle, went past the slip fielders as a bemused Alastair Cook looked on and by then the umpires had enough,
They clipped the bails off and called tea, with India's batsmen – Virat Kohli and Cheteshwar Pujara – walking off with their team in a really strong position.
Watch all the fun HERE