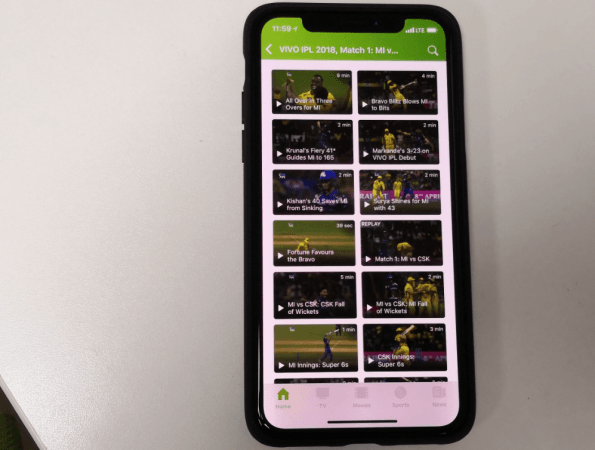 The eleventh edition of Vivo Indian Premier League (IPL) kicked off with a superb match with Chennai Super Kings (CSK) beating defending champions Mumbai Indians (MI) in a last-over thriller finish on April 7.
IPL is a two-month long season with cricket matches played at least one match a day on every weekday and two on weekends. All the matches will be played in two-time slots—16:00 IST and 20:00 IST. The timings are planned for the convenience of fans to attend the matches at stadiums, but millions of others who can't attend the match due to work and other chores don't have to miss out on the live action.
Considering the T20 cricket format's uncertainty factor, wherein the dynamics of the game can change in a few minutes (or in one over) like it happened on Friday. No die-hard fans would want to miss any action on the field.
Well, there is no reason to fret on that, as there are many handy smartphone apps, which promises to bring the live action right into your palms via smartphones.
Here are our top 5 smartphone apps (iOS and Android versions) that keep you updated and also offer value-added feature Virtual Reality viewing option:
BCCI's IPL 2018 (Developed by Pulse Innovation):
Salient features:
Live ball-by-ball scores & commentary
Video highlights & features
Live photostream (for the live video stream, HotStar is the official broadcaster)
Exclusive player interviews
Real-time updated team points table
Users can also buy IPL match tickets
Hotstar (Developed by Novi Digital Entertainment Pvt Ltd):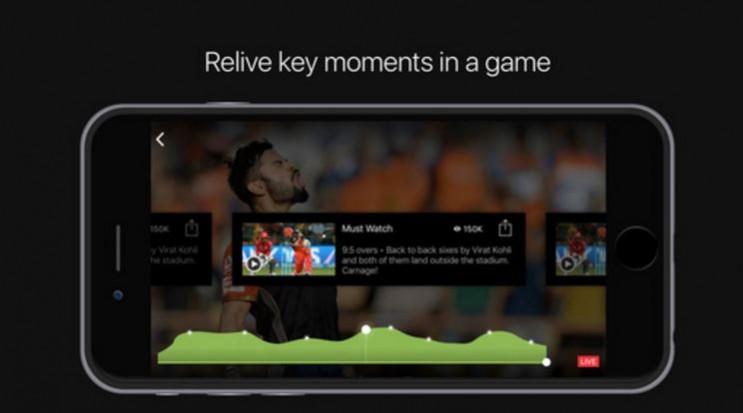 Salient features:
Since Star has official IPL broadcasting rights, the user can directly stream all the Vivo IPL 2017 matches on their smartphones and also fastest score updates without delay, provided you have internet data pack on
Hotstar also offers full match replays, highlights and post-match expert analysis
Another key aspect of Hotstar app, it also offers VR viewing option on both iOS and Android platforms With this users can feel watching the match in a cricket stadium. But, users have to sign-in for a paid subscription
Besides live cricket, Hotstar TV allows the user to watch top TV series in several regional languages, as well
Cricbuzz Cricket News (Developed by Cricbuzz.com):
Salient features:
Live cricket score updates with the ball by ball text commentary
It also offers in-house editorial on cricket news, pre-match and post-match analysis from experts such as Harsha Bhogle, Zaheer Khan and many more
Current Matches page - To help you follow all live matches in one place
Match Timelines and Twitter Timelines on the Commentary page (Match Center)
Match alerts via push notification service - so that you don't miss any match-turning moments
Cricbuzz supports many Indian dialects (Hindi, Tamil, Kannada, Telugu, Marathi, and Bengali are currently supported). Users have to download separate "Cricbuzz - In Indian Languages" app.
ESPNcricinfo Cricket App (Developed by ESPN Inc.):
Gives latest updates on upcoming matches, live game coverage, scores, player statistics, team/player rankings.
Option to choose the favorite team and get a related update
Option to compare player statistics and view player profile across teams
This app version is also optimized to perform even on slow network connections
App user can also subscribe to exclusive content from best sports writers, audio, video and more. Push notifications for instant alerts of wickets, batsman milestones, fun facts and other matches related information.
Yahoo Cricket (Developed Yahoo India):
Comes with simple user-friendly interface
Users can track tournament-wise or team-wise fixtures of upcoming matches.
The user can choose a favorite team and get a daily update

In a related development, Airtel is offering free IPL 2018 cricket streaming option on its Airtel TV. In addition, to live matches and highlights, people can access curated content related to a post-match analysis by experts, select and follow their favorite teams, keep up with ongoing matches, leader-board, and go through the upcoming schedule. It also offers special scorecard notifications so that user need not have open Airtel TV repeatedly to see the match progress report. This offer is exclusive to Airtel post-paid and pre-paid users.
IPL 2018: Top apps' mobile system requirements, application compatibility, and rating details:
Mobile App
Size
OS compatibility
*Average ratings on both Android and iOS
IPL 2018 (Android)IPL (iOS)[Name varies in different platform, but developed by official app creator: Pulse Innovation]
Google Android: 30 MB
Google Android: v4.1 or later
4.2 stars
Apple iOS:65.6MB
Apple iOS: v9.0 and later
Hotstar (Developed by Novi Digital Entertainment Pvt Ltd)
Google Android: Varies with smartphone
Google Android: OS version varies with smartphone
4.4 stars
Apple iOS: 143.7MB
Apple iOS: v9.0 or later
Cricbuzz Cricket Scores & News (Developed by Cricbuzz.com)
Google Android: Varies with smartphone
Google Android: OS version varies with smartphone
4.6 stars
Apple iOS: 111.5MB
Apple iOS: v9.0 or later
The ESPNcricinfo Cricket App (developed ESPN. Inc.)
Google Android: 16MB
Android: v4.4 and later
4.4 stars
Apple iOS: 56.5MB
iOS: v10.0 or later
Yahoo Cricket (Developed by Yahoo India)
Google Android: 9.5MB
Android: v4.1 or later
4.7 stars
Apple iOS: 63.9 MB
iOS: v9.0 or later
*Ratings are subject to change with time and number of users.
Stay tuned. Follow us @IBTimesIN_Tech on Twitter for latest updates on smartphone apps.