The Edgbaston crowd may have probably remembered Virat Kohli's version of mic drop celebration as they went on to boo the Indian captain when he walked out to bat on Thursday.
Kohli had seemingly enraged the home crowd by mimicking their captain Joe Root's famous celebration from the ODI series after running him out the previous day [Day 1] of the ongoing first Test between England and India at Edgbaston.
However, towards the end of the second day's play, when Kohli walked into the dressing room after having scored his first Test century in England, the whole of Edgbaston crowd was up on its feet.
Such was the class of Kohli's knock that the captain single-handedly steered India from a position of danger to strength. Battling demons in his head and off the pitch, the 29-year-old stood tall, showcasing grit and determination during his 149-run spectacle.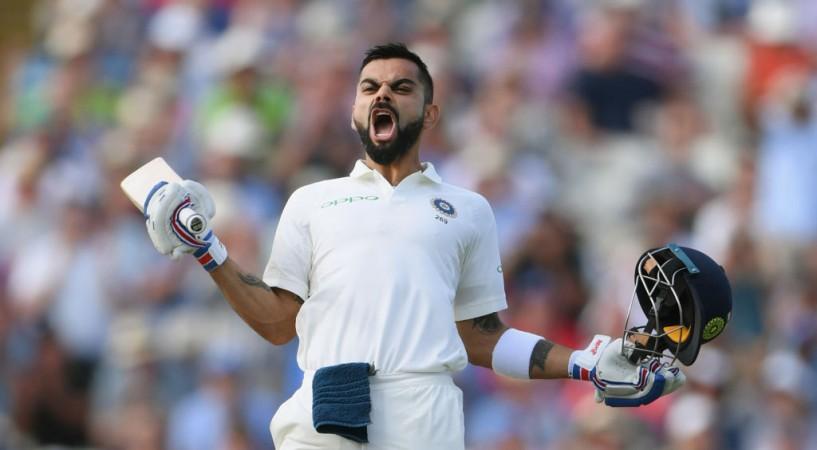 India had lost two quick wickets after a solid start when Kohli arrived at the crease. He faced some hostile bowling from English pacers, especially James Anderson and 20-year-old Sam Curran, who ended the day with four wickets.
Kohli on 2014 tour: 134 runs; Kohli in his first innings on 2018 tour: 149
There was quite a lot of pressure on Kohli as his last visit to England in whites was disastrous. He had scored only 134 runs in 10 innings at a paltry average of 13.40.
However, Kohli scored 15 more in just the first Indian innings of the ongoing five-Test series than the total runs he had scored in 2014.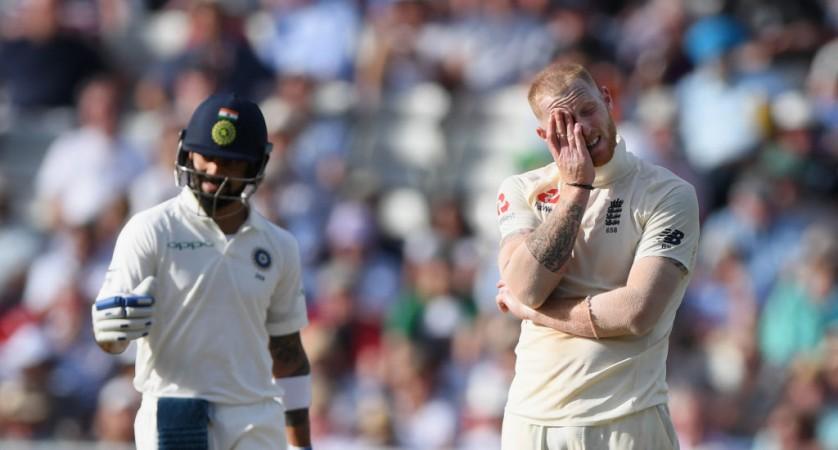 Batting was not easy as England bowlers bowled probing lines and lengths. From 50 for 0, India went to 54 for 2 and were reeling at 100 for 5 as Ben Stokes and Curran ran through India's top and middle order.
Kohli was beaten umpteen times and even nicked a few but managed to survive. Dawid Malan handed the centurion an extra life as he dropped a sitter when India were on 100 and their captain on 21.
However, Kohli weathered the storm and continued playing one of his least eye-catching knocks.
Kohli parnters with the tail to frustrate England
He was cautious when batting with the top-order but swtiched gears during partnerships with tail-enders. His knock was a lesson in farming the strike as he hardly let the likes of Ishant Sharma and Umesh Yadav — India's No. 10 and 11 — face the English bowlers.
He had faced 116 balls while allowing Mohammed Shami, Ishant and Umesh face just 31. India scored 105 runs after all-rounder R Ashwin's dismissal and three tail-enders contributed only 8 runs with Kohli doing the bulk of the scoring.
The courage and character the Delhi batsman showed not just helped him earn the respect of the crowd but also a lot of praise from the cricket fraternity.
Kohli's 149 helped India put on 274 runs on the board, which looked improbable when they were struggling at 100 for 5. The visitors just finished 13 runs short of England's first innings total.
R Ashwin only helped boost India's confidence towards the end of the day as he dismissed opener Alastair Cook with a peach of a delivery that was a carbon copy of the one that got the left-hander out on Wednesday.