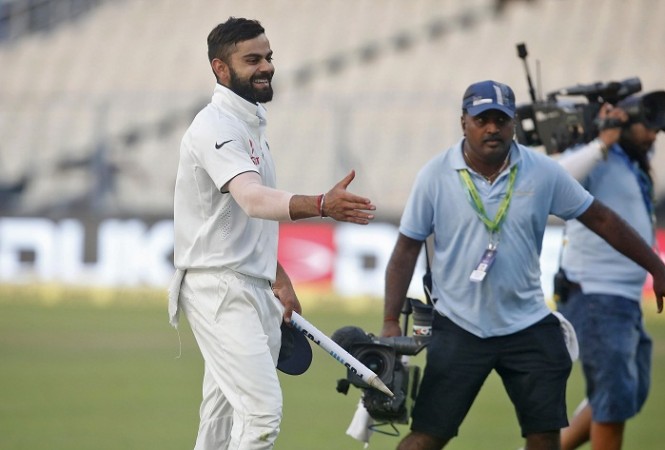 Virat Kohli has led the Indian team brilliantly in the Test format, winning a number of Test matches, home and away. Under his leadership, the team has shown strong character, and played positive cricket. Former India captain Bishan Singh Bedi feels it is time for Kohli to replace Dhoni as the skipper of the ODI and T20 side as well.
Kohli took over the leadership from Dhoni in Test cricket after the sudden retirement of the Jharkhand man in the longer format in December 2014 during the Australia tour. Since then Dhoni is leading India in coloured clothing only.
When quizzed if Kohli should captain India in ODI and T20 as well, Bedi said "yes," stating that the decision has to be taken by the selectors. "Indeed, yes... Mahendra Singh Dhoni could continue as a player in ODIs and T20Is... That call has to be taken by the selectors," The Telegraph, India, quoted Bedi as saying.
Kohli has produced favourable results under his leadership and Bedi has also been impressed with Kohli's work ethic.
"I like Virat's attitude, leads by example with his work ethic. However, he must mellow down more," Bedi said.
Presently, India have a long home season, which will include teams like England and Australia visiting in the next six to seven months. There is plenty of cricket, and the current team management with Anil Kumble as coach and Kohli (captain) has gelled instantly, so the future looks bright.
Kumble became the coach of the India team in June, and helped India win Test series in West Indies. India have already clinched the onoging Test series against New Zealand, with a game to spare and Bedi sung praise for the Kumble-Kohli's ideal combination.
"Virat as captain and Kumble as the head coach... Well, it's such a lovely combination and, when Kumble got the job (in June), it was the best piece of news in a long time," Bedi said.