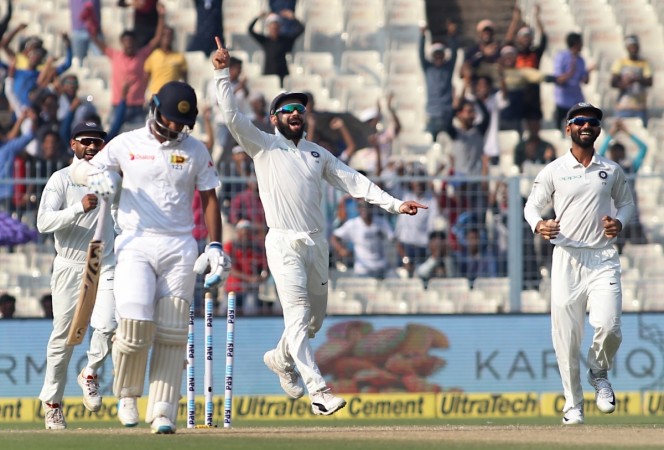 Indian captain Virat Kohli heaped praise on "feisty" Niroshan Dickwella and said that he had no issues with the time-wasting tactics employed by the Sri Lankan wicketkeeper-batsman on the final day of the first Test, which ended in a draw on November 20 at Kolkata's Eden Gardens.
Kohli added he would to have "that sort of competition" and that the on-field banters do not extend beyond the cricket ground.
The 29-year-old revealed that things were normal between Dickwella and himself and that they even had a chat while travelling to Nagpur for the second Test, starting Friday, November 24.
How India fell into Dickwella's trap
Having set a target of 231 for Sri Lanka, India had less than two sessions on the final day to bowl out the visitors and take a 1-0 lead in the three-match rubber. Pacers Mohammed Shami and Bhuvneshwar Kumar started with a bang and had the islanders reeling at 22 for 4.
Also read: Former batsman wants India to take cue from Pakistan cricket fans; here's why
However, Dickwella stitched a 47-run stand with captain Dinesh Chandimal and rescued Sri Lanka even as India pacers were bowling their hearts out.
More importantly, the left-hander was riling up his opposition, including skipper Kohli, by "intentionally" employing time-wasting tactics.
Indians also fell for the trap as they argued with Dickwella on the field. Shami, who was at the receiving end of the wicketkeeper-batsman's antics, seemed to have lost his cool and wasted more time by walking up to the batsman and giving him a stare.
Sri Lanka eventually escaped with a draw as bad light affected play when the visitors were on 75/7.
'We had a chat in the flight'
Kohli maintained he would try his best for the team's benefit, but that he liked the fiery character of Dickwella, who according to the Delhi batsman, is capable of doing "something special" for Sri Lankan cricket.
"Everyone has different characters. I like that sort of competition on the field. He [Dickwella] is someone who takes a lot of pride in his cricket. I have been very impressed with what I have seen in him, in the last series as well. I think he has got great ability to do something special for Sri Lankan cricket," Kohli said during the pre-match press conference on Thursday, November 24.
He added: "He [Dickwella] is a very feisty character, that works for him. Credit to him for maintaining that. I am sure he will do good things for Sri Lankan cricket in the future.
"I like that sort of competition on the field. In the heat of the moment, I would like to do anything for my team to win. However, afterwards we were normal, we had a chat in the flight as well.
"Those things end on the field. When you're competitive as an opponent, we always respect that."
Meanwhile, Dickwella had revealed he had intentionally tried to waste time. His tactics though were appreciated by former captain Mahela Jayawardene, who took to Twitter to laud the wicketkeeper-batsman. Here's Kohli's reply to the post.