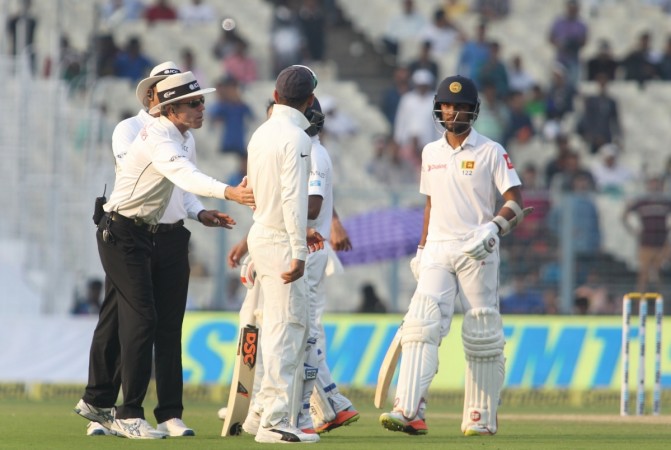 It was a tense final session in the first Test between India and Sri Lanka at Kolkata's Eden Gardens on Monday (November 20). The hosts were denied victory by bad light with the visitors seven down. In those final moments, there was an argument between the players.
Sri Lanka wicketkeeper Niroshan Dickwella has revealed what happened between him and Indian captain Virat Kohli on the fifth and final day.
The left-handed Dickwella today (November 22) admitted that he was trying to "kill some time" by getting into an argument with the Indian skipper and also paceman Mohammed Shami.
"How it all started was, I hit a six over square leg. There were three fielders behind square on the leg side and I brought that to the notice of the umpire Nigel Llong. A no-ball was called and then Virat Kohli came towards me and told me that that's the umpires' job and you don't worry. That's how it all started," Dickwella told "Cricbuzz" on Wednesday. The incident happened in the 15th over.
He continued, "I thought, hang on, this is a good opportunity to get into an argument and kill some time. Kohli quickly realised what my intentions were and started walking back. Then the Mohammed Shami thing happened. It was funny I thought, I would like to think that I won that battle."
Watch the video of the incident here
The Sri Lanka said he told Shami "I don't give a damn" when the bowler told him that he was the local boy.
"Shami came up to me and said, 'Look here, I am the local boy. I am from Kolkata.' Then I said, 'I don't give a damn.' A few seconds later, I said, 'But you are bowling with good pace and bounce.' Perhaps he was happy with the complement and started walking back.
"I was taking my time while I was batting and Shami was rushing to bowl and that didn't go down too well with the Indians. I was so happy to be in that situation. The captain was on the other side and was guiding me asking me to be calm and play the normal game and they will get frustrated," the 24-year-old said.
Sri Lanka were set a tricky target of 231 with just over a session left in the Test. They were reduced to 22/4 in 11.5 overs with Shami and Bhuvneshwar Kumar putting the batsmen in all sorts of trouble. However, the visitors survived the duo's spell and later bad light came to their rescue.
Dickwella was the sixth wicket to fall. He scored a 36-ball 27 (2x4, 2x6). He was trapped LBW by Bhuvneshwar. The batsman reviewed but the decision stayed with Hawkeye indicating "umpire's call".
Now both teams face off in the second Test in Nagpur from Friday (November 24). The third and final Test of the series is in Delhi from December 2.