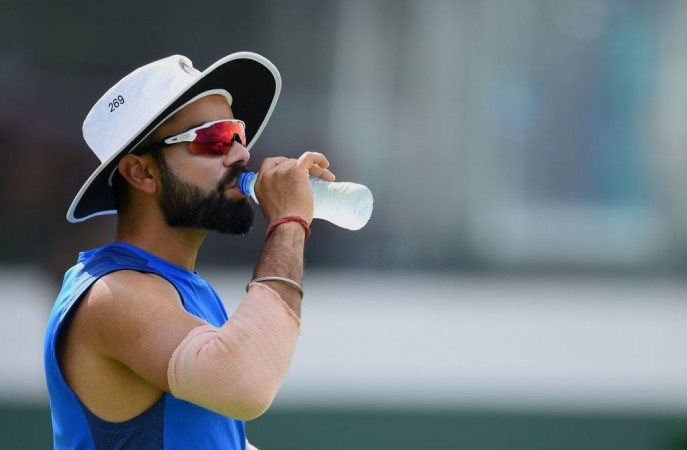 Captain Virat Kohli on Thursday (November 9) opened up on his association with a famous Indian alcoholic beverage company, saying he did not promote alcohol but only the brand's energy drink.
Kohli, as of 2016, was promoting around 20 brands from 13 different companies. However, he has maintained in the past that he would not be associated with brands that do not fit his ideals. Walking the talk, the Indian skipper, earlier this year, did not renew a multi-crore deal with cola giants - Pepsi.
The multinational beverage company, according to reports, were keen on renewing the contract with Kohli, but the latter had reservations about endorsing a cola, given the health concerns surrounding aerated drinks.
Kohli, on Thursday (November 9) while unveiling his new brand - One8 - in association with German sports lifestyle company Puma, reiterated his stand on endorsements, but managed to duck when he was asked about association with the alcohol brand.
Also read - Virat Kohli a bigger brand than Barcelona superstar Lionel Messi: Forbes
Notably, Kohli-endorsed brand - Royal Challenge, like many other alcohol brands use 'surrogate advertising', a method in which banned products are advertised in disguise of another product. Meanwhile, the manufacturers of the alochol brand - United Spirits Limited - are also the owners of the Delhi batsman-led Indian Premier League (IPL) side, Royal Challengers Bangalore (RCB).
"I don't sign on with brands now that I don't consume. Even after that [ending his association with Pepsi], which is a big brand, I had a few situations where I was offered brands but I don't find the need to say yes to them," Kohli told "The Economic Times".
He added: "It [alcohol company] is a brand I am associated with but I am not promoting alcohol. I am promoting an energy drink."
Check out this ad
Fitness turnaround
Kohli, who is among the fittest cricketers in the modern era, had revealed he wanted to focus on fitness after having a poor run in the 2012 season of IPL.
The RCB batsman conceded he had been "eating poor, staying up until late and having a drink or two regularly", but followed a strict fitness regime thereafter.
The results are there to be seen as the 29-year-old has become one of the most consistent cricketers and is breaking records at will. The improved fitness is allowing the Delhi batsman to remain injury-free despite representing the country in all three formats of the game.