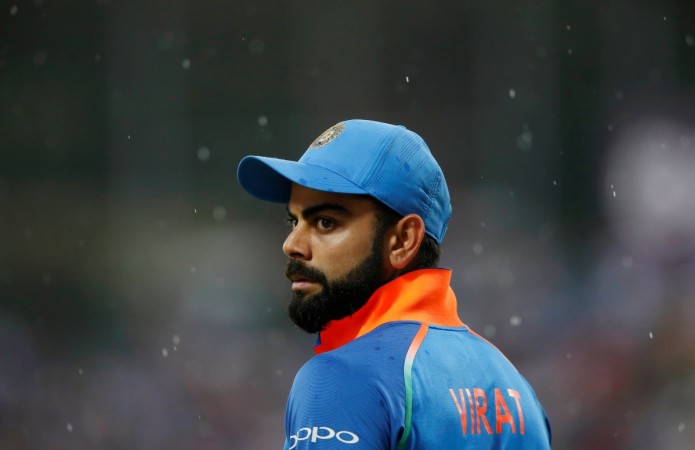 Virat Kohli is smashing records at will with his consistent run in all formats of the game. It seems the Delhi batsman is raking up numbers off the field as well.
The Indian cricket team captain ranks ahead of Argentine football superstar Lionel Messi when it comes to brand value, according to the Forbes Fab 40 list, released on Wednesday, October 25.
Kohli, with $14.5m, is two rungs ahead of the Barcelona superstar, who has a brand value of $13.5m. Notably, the cricketer is also ahead of NBA legend Stephen Curry, who is valued at $13.4m.
This is the first time Kohli, who is already the top-paid cricketer and among the highest-paid athletes in the world, is featuring in the list. The cricketer's rise to the top-10 in the world in terms of brand value comes after he struck a couple of Rs 100 crore deals in 2017.
Notably, he became the first Indian sportsperson to sign a Rs 100 crore endorsement deal with a single brand when he signed for a popular sports brand in February, earlier this year.
The brand value of an athlete is their earnings (excluding salary and bonus from their sport and all investment income), minus the average income of the top 10 athletes in the same sport.
Also read: Virat Kohli better than Sachin Tendulkar, Brian Lara & Viv Richards in ODIs: Former England cricketer
Real Madrid superstar, Cristiano Ronaldo, who is the highest-paid athlete of 2017 with $93m in earnings, occupied the fourth slot with brand value of $21.5m behind decorated Olympian Usain Bolt, who hung up his boots earlier this year.
Tennis ace Roger Federer leads the rest of the pack with 37.2m, while Cleveland Cavaliers' star LeBron James is second with 33.4m.
Check out the full list here
| | |
| --- | --- |
| Name (Sport) | Brand Value |
| 1. Roger Federer (Tennis) | $37.2m |
| 2. LeBron James (Basketball) | $33.4m |
| 3. Usain Bolt (Athletics) | $21.5m |
| 4. Cristiano Ronaldo (Football) | $21.5m |
| 5. Phil Mickelson (Golf) | $19.6m |
| 6. Tiger Woods (Golf) | $16.6m |
| 7. Virat Kohli (Cricket) | $14.5m |
| 8. Rory McIlroy (Golf ) | $13.6m |
| 9. Lionel Messi (Football) | $13.5m |
| 10. Stephen Curry (Basketball) | $13.4m |
Meanwhile, Indian Premier League (IPL), which is slowly becoming one of the hottest sports properties in the world, failed to make the top-10 event list. Despite netting USD 2.55 billion from digital and television media rights alone earlier this year, the cash-rich cricket league is way behind the likes of Super Bowl and UEFA Champions League in terms of revenue per-event-day.
Here are the top-10 events
| | |
| --- | --- |
| Event | Revenue per match-day |
| 1. Super Bowl | $663m |
| 2. Summer Olympics | $419m |
| 3. Winter Olympics | $285m |
| 4. FIFA World Cup | $229m |
| 5. NCAA Final Four | $228m |
| 6. WrestleMania | $195m |
| 7. Uefa Champions League | $185m |
| 8. College Football Playoffs | $176m |
| 9. Daytona 500 | $140m |
| 10. MLB World Series | $124m |