Even as he celebrated his 30th birthday, the plaudits continue to pour in for Indian captain Virat Kohli. At a time when he could well be the best batsman in the game, Australian all-rounder Glenn Maxwell has said that the Indian captain leads by example and has even warned his Australia team to be wary of this threat when the two sides face-off later this year.
"Virat Kohli is an amazing player, an incredible captain and leader. He has got an insatiable appetite for being the best at everything, be it scoring runs, best fielder, best fitness-wise etc. He has an incredible desire to dominate. His technique is almost flawless. He just hits the middle of the bat so much more often than everyone else. He looks like he has more time than everyone else. He just makes good decisions," he said in an interview to cricket.com.au.
Kohli breezed past 10,000 ODI runs in the recently-concluded series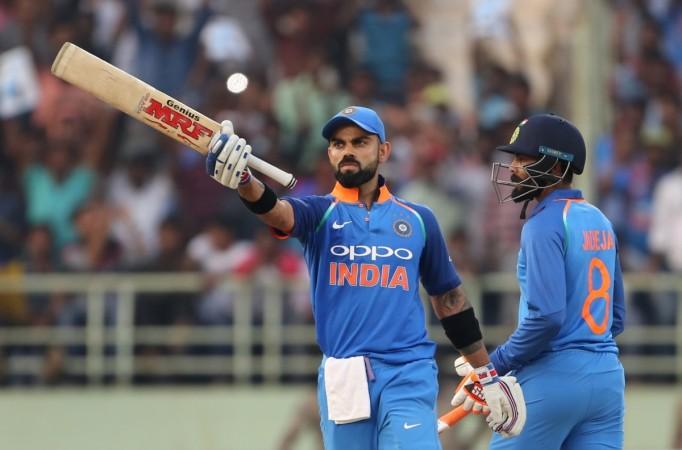 Kohli has been peeling off runs for fun across all the three formats, but his ODI numbers are mind-boggling. In the recently concluded series against the West Indies, he breezed past 10,000 ODI runs and became the fastest in the world to achieve this feat.
"Look at his ODI record, to score as many hundreds as he does, chasing, consistently winning games for his team. If he is playing well, he feels that he can win the game by himself. That is a pretty scary aspect when one player has that," Maxwell added.
The all-rounder who has made quite a name for himself in India due to the IPL is in awe of Kohli's passion and drive to win games at all times. He believes that Kohli has transformed the Indian team and that his energy is infectious and rubs onto the other members of the side.
"He is worried about winning every contest in the moment, not about what is coming up and that is why you see he is so passionate. He never seems to drop off. Every wicket he is celebrating hard, every wicket is like the last one every taken," he smiled.
"I think if you look at the way he has led the Indian team, he has bred them to be winners, he has bred them to be expecting to win," he assessed.