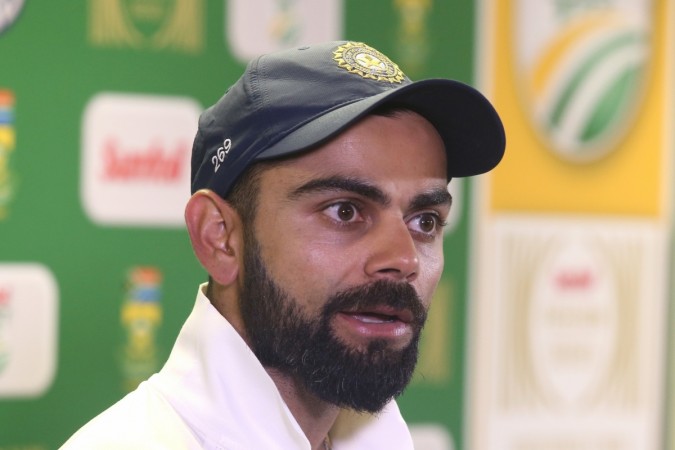 India captain Virat Kohli equalled Sourav Ganguly's record after leading the team to a historic 63-run victory over South Africa in the third Test on Saturday (January 27).
In tough conditions, India downed the hosts at The Wanderers Stadium. It was a consolation win for the visitors as they had already lost the series in the three-match rubber. However, with very little successes in the "Rainbow Nation", the players, expectedly, celebrated in a big way.
Also read: Kohli breaks Lara's record
India have never won a Test series in South Africa and many were expecting the current side to end that drought. However, the 25-year wait got extended with the latest 1-2 reversal.
Since 1992, the first time they travelled to South Africa, India have managed only three wins in 20 Tests. The latest one came under Kohli's leadership.
With the win in Johannesburg, Kohli has matched Ganguly's achievement as the second most successful Indian captain in the five-day format. The duo has 21 victories while the leader is MS Dhoni with 27.
As far as success rate is concerned, Kohli is outstanding. He has lost only five of the 35 Tests he has captained India.
After Johannesburg success, Kohli tweeted a picture of the team celebrating and captioned it, "Proud prouder proudest. Hats off to the whole team for showing character throughout. This day will always be special. Jai hind."
Kohli is only the third Indian skipper to win a Test on South African soil. Rahul Dravid was the first in 2006, at the same venue. After that, Dhoni took the side to victory in Durban in 2010.
Three from the current victorious India Playing XI were part of the side that won in 2010. Murali Vijay, Cheteshwar Pujara and Ishant Sharma were part of the winning outfit in Durban.
India have ensured that they maintain an unbeaten Test record in Johannesburg. They have played five and won two while three ended in draws.
Kohli will get a chance in June to surpass Ganguly when India host Afghanistan in a one-off Test in Bengaluru.
Most Test wins as India captain
MS Dhoni - 27 wins (60 matches, Lost 18)
Virat Kohli - 21 (35, Lost 5)
Sourav Ganguly - 21 (49, Lost 13)
Mohammad Azharuddin - 14 (47, Lost 14)
Sunil Gavaskar - 9 (47, Lost 8)
Mansur Ali Khan Pataudi - 9 (40, Lost 19)
Rahul Dravid - 8 (25, Lost 6)
India's Test wins in South Africa
December 2006 - India won by 123 runs in Johannesburg (Man-of-the-match - S Sreesanth)
December 2010 - India won by 87 runs in Durban (Man-of-the-match - VVS Laxman)
January 2018 - India won by 63 runs in Johannesburg (Man-of-the-match - Bhuvneshwar Kumar)