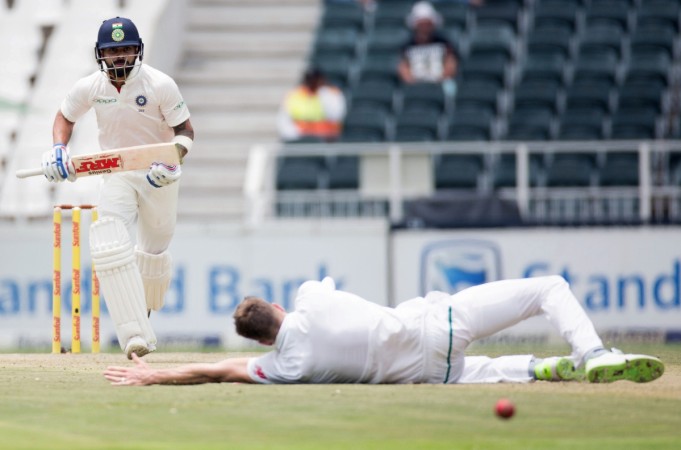 India captain Virat Kohli surpassed West Indies' batting legend Brian Lara after leading the team to a historic 63-run victory over South Africa in the third Test in Johannesburg.
Also read: Kohli emulates Ganguly, Dravid, Dhoni
On Saturday (January 27), India achieved only their third ever Test success in South Africa. However, they lost the series 1-2. Kohli joined Rahul Dravid (2006) and MS Dhoni (2010) as the skippers to have led the side to Test wins in the "Rainbow Nation".
Also read: Shastri disagrees with Kohli
After the win at The Wanderers, there was more good news for Kohli and India. He went past Lara in the all-time points table for Test batsman in the International Cricket Council's (ICC) Rankings and India retained the Test Championship mace for being the number one side in the world.
The 29-year-old Dehli right-hander now has 912 rating points. He has moved from 31st to 26th in the all-time list headed by the legendary Australian Sir Don Bradman (961 points).
Sunil Gavaskar is the top Indian with 916 points. Kohli will have to wait for few more months to try and surpass Gavaskar as India will not play Tests till June when they host Afghanistan in one-off game in Bengaluru.
It was one of the famous Test wins for Indiain Johannesburg. With all the focus being on the pitch, which was slammed by many as "dangerous", Kohli showed his class with scores of 54 and 41.
Thanks his important knocks, he gained 12 points. However, he still is in second position in ICC Test Rankings. Australian leader Steve Smith still is on top with 947 points.
"Kohli, while moving from 31st to 26th position, has leapfrogged Lara (911), Kevin Pietersen (909), Hashim Amla (907), Shivnarine Chanderpaul (901) and Michael Clarke (900)," ICC said.
List of batsmen with 900 or more points in ICC Test Batsmen Rankings
| | | |
| --- | --- | --- |
| BATSMEN | Team | POINTS |
| Don Bradman | AUS | 961 |
| Steve Smith | AUS | 947 |
| Len Hutton | ENG | 945 |
| Ricky Ponting | AUS | 942 |
| Jack Hobbs | ENG | 942 |
| Peter May | ENG | 941 |
| Garry Sobers | WI | 938 |
| Kumar Sangakkara | SL | 938 |
| Vivian Richards | WI | 938 |
| Clyde Walcott | WI | 938 |
| Jacques Kallis | SA | 935 |
| Matthew Hayden | AUS | 935 |
| AB de Villiers | SA | 935 |
| Mohammad Yousuf | PAK | 933 |
| Graeme Pollock | SA | 927 |
| Everton Weekes | WI | 927 |
| Doug Walters | AUS | 922 |
| Dudley Nourse | SA | 922 |
| Michael Hussey | AUS | 921 |
| Neil Harvey | AUS | 921 |
| Joe Root | ENG | 917 |
| Denis Compton | ENG | 917 |
| Sunil Gavaskar | IND | 916 |
| George Headley | WI | 915 |
| Ken Barrington | ENG | 914 |
| Virat Kohli | IND | 912 |
| Brian Lara | WI | 911 |
| Kevin Pietersen | ENG | 909 |
| Hashim Amla | SA | 907 |
| Shivnarine Chanderpaul | WI | 901 |
| Michael Clarke | AUS | 900 |
ICC Test Batsmen Rankings (as on 28 January, following Johannesburg Test) - Top 10
| | | | | | | |
| --- | --- | --- | --- | --- | --- | --- |
| Rank | (+/-) | Player | Team | Points | Average | Highest Rating |
| 1 | ( - ) | Steve Smith | Australia | 947! | 63.75 | 947 v Eng at Sydney 2018 |
| 2 | ( - ) | Virat Kohli | India | 912! | 53.40 | 912 v SA at Johannesburg 2018 |
| 3 | ( - ) | Joe Root | England | 881 | 53.28 | 917 v Aus at Trent Bridge 2015 |
| 4 | ( - ) | Kane Williamson | New Zealand | 855 | 50.62 | 893 v Aus at Perth 2015 |
| 5 | ( - ) | David Warner | Australia | 827 | 48.77 | 880 v NZ at Perth 2015 |
| 6 | ( - ) | Cheteshwar Pujara | India | 810 | 50.51 | 888 v SL at Nagpur 2017 |
| 7 | (+1) | Hashim Amla | South Africa | 771 | 49.08 | 907 v Pak at Abu Dhabi 2013 |
| 8 | (-1) | Azhar Ali | Pakistan | 755 | 46.62 | 787 v Aus at Melbourne 2016 |
| 9 | ( - ) | Dinesh Chandimal | Sri Lanka | 743! | 43.94 | 743 v Ind at Delhi 2017 |
| 10 | ( - ) | Alastair Cook | England | 742 | 46.35 | 874 v Ind at Kolkata 2012 |