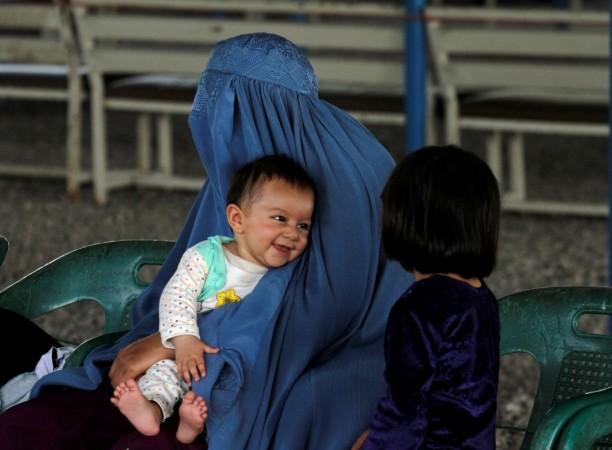 A captivating photograph of an Afghan woman writing her exam while nursing her baby has gone viral on several social media platforms. In the viral photo, 25-year-old Jahan Taab is seen sitting on the floor of a classroom writing the exam while nursing her two-month-old baby.
The photograph was taken in a private university in Afghanistan's Daykundi province, and has taken the internet by storm.
Yahya Erfan, a lecturer at the university, described the scenario to CNN by saying Taab was writing an entrance exam, known as Kankor exam, for a social science course at Nasirkhosraw Higher Education Institute in Nilli city.
However, her child started crying during the exam. She quickly got up from her desk, went to sit on the floor and started taking care of her baby, but did not stop writing the exam.
Erfan shared the compelling pictures on Facebook and told CNN: "It was amazing and all of the classmates were in admiration of her."
Inspiring photo from social media: this mother is taking university entrance exam while taking care of her child, in Daikundi. Afghan women are unstoppable. pic.twitter.com/lus0eeuH48

— Shaharzad Akbar (@ShaharzadAkbar) March 19, 2018
Taab, who is married to a farmer and has three children, cleared the Kankor exam with 152 points and continued her study.
Erfan told local Etilatrooz Daily that he was concerned over how Taab would pursue her dream as she belongs to a "poor family" and may not be able to afford the tuition fees that are around 10,000-12,000 afghani ($143-172).
A British organization called the Afghan Youth Association has set up a GoFundMe page in support of Taab's studies, calling her as a "role model to thousands of other Afghan women who face similar challenges."
Wow!
This picture makes us feel better.

In order to say no to the ignorance, this #woman in central #Daikundi province of #afg while hugging her child participated in Kankor exam to join university & bring positive changes to her family's life.

Photo: social media pic.twitter.com/tzri8NBSiw

— Zakarya Hassani (@ZHassani7) March 19, 2018
Is here a way people can help?...beyond GoFundMe pages... maybe Afghan clubs in uni's should joint forces and help with educational fees for #JahanTaab Where's all that cupcake $ goin? https://t.co/nkmofesKcw

— Marjan Asadullah (@marjanasadullah) March 19, 2018
She is #JahanTaab, from Oshto Village of #Daikundi- a poor village without way for ?. She passed the kankor Exam by 152 points. She will study sociology in a private university, but she is not sure can she provide the 10k-12k AFN fees for university every semester?. pic.twitter.com/WUoluhZkzO

— Zaki Daryabi (@ZDaryabi) March 19, 2018