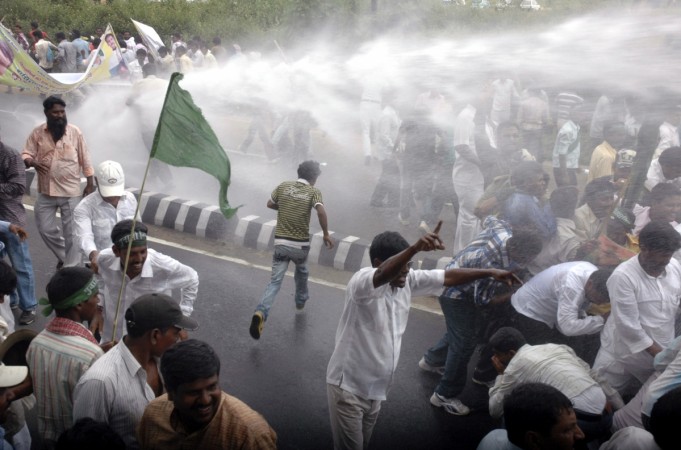 Violence reportedly erupted in parts of Jharkhand ahead of Prime Minister Narendra Modi's visit to Jamshedpur on Sunday. The Jharkhand Mukti Morcha (JMM) has called for a bandh in Jharkhand protestinst against the new domicile policy approved by the BJP-led state cabinet.
Some people, suspected to be supporters of the bandh, allegedly torched a bus and a water tanker in East Singhbhum district, Press Trust of India quoted Deputy Superintendent of Police (Musaboni) Ajit Vimal as saying. The bus was supposed to pick up BJP workers from rural areas of the state.
The police force deployed in the area ahead of Modi's visit and fire fighters were able to put off the flames on the water tanker. Some others bandh supporters also allegedly blocked the road in Tirildih area in Potka block. At least five persons have been detained so far, Vimal said.
The East Singhbhum district administration has tightened the security in the region ahead of Modi's visit to JRD Tata Sports Complex in Jamshedpur for the celebration of National Panchayati Raj Day, observed every year on April 24 since 2010.
The leading opposition party JMM was protesting against the new domicile policy cleared by the state government on April 7. According to the policy, those living and working (or lived and worked) in Jharkhand for the last 30 years will be considered as permanent residents, Indo-Asian News Service reported. Jharkhand was carved out of Bihar and made a separate state in 2000.
"Those having names in the land records of the last survey and their children; the ones identified by the gram pradhan on the basis of language one spoke and cultural practices; ones born in Jharkhand and having matriculated from here; those living in the state for the past 30 years for business and jobs; the ones employed by the Jharkhand government or the central government or holding constitutional posts and their children," the Indian Express quoted the criteria of the policy.
"How can they compare and put on the same pedestal the people who have been living here for the past 300 years and those who have been here for the past 30 years only? Also, the ones living for the past 30 years had come here primarily for business or jobs. Obviously, they had not come for agriculture," the IE quoted JMM's general secretary Supriyo Bhattacharya as saying.
The prime minister will address the gathering at the function and is expected to talk about the schemes and initiatives, including 10-day Gram Uday Se Bharat Uday Abhiyan, introduced by his government for the welfare of villagers and farmers, the IE reported.