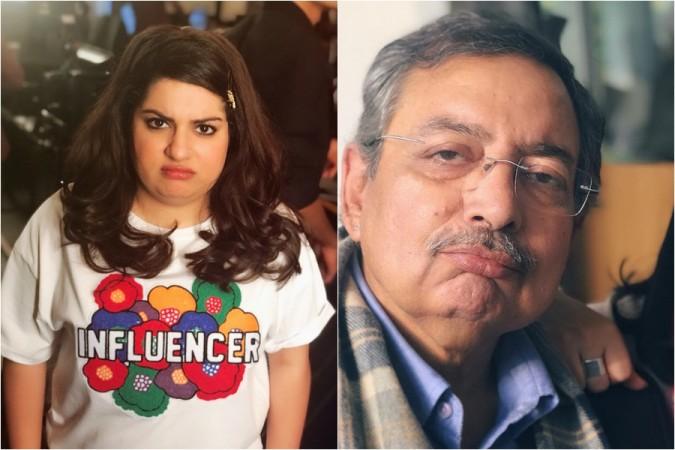 Actress and comedian Mallika Dua has been facing a lot of flak on social media after her father Vinod Dua was accused of sexual harassment by film-maker Nishtha Jain. Now, she is being slammed for her recent statement in which on one side she says she still supports the #MeToo movement and the survivors, and on other says she "stands by" her father.
Although many had felt it was unnecessary to drag and shame Mallika for an alleged misconduct by her father, her recent post explaining her stand raised eyebrows.
In the post, she first said that it is "traumatic" and "painful" if the charges levied against her father by Nishtha are true, but the accuser should not have dragged her into it.
She then slammed the right-wing trolls for targeting her on this controversy and added that she still supports the #MeToo movement and all the survivors.
But she ends the statement with a line that read, "This is my dad's battle, I will let him fight it and I will stand by him".
This remark of standing by Vinod Dua, who has been accused of sexually harassing the film-maker, did not go down well with many. The post received series of comments, most of them calling her "hypocrite" for declaring all the other accused in #MeToo cases as guilty, but when it came to her father, she chose to "stand by him".
While the right-wing Twitter handles lashed out at her for allegedly playing "victim card", many others asked her to clarify her stand. Some others just continued trolling her with names like "fake feminist" and "hypocrite".
Dear @MallikaDua don't be upset. People are serving you your own medicine. You shamed everyone who stood for their friends, family, due process just the way you are standing for your dad. This response only exposes ur bigotry and double standards for #MeToo and nothing else. Thx pic.twitter.com/VJwQAVPqhT

— Deepika Bhardwaj (@DeepikaBhardwaj) October 14, 2018
In first 2 paragraphs, you stand with the #MeToo movement but in the last para, you suddenly stood with your dad!
Itna fast U-turn to Kejriwal nahi leta?

Anyways, thanks for bringing out that feminism is merely your facade which is thrown in trash when your dad's name surfaces

— Aditya Tiwari (@adt007ad) October 14, 2018
Why is @MallikaDua calling all these bigotry? What does bigotry have to do with all these? Misogyny may be but bigotry, matlab by dafault hain kya, call everyone bigot who exposes you

— franku (@lordfranku) October 14, 2018
First : I'm going to stand up against bigotry, misogyny, stand-up for survivors

Last : I'll stand-up by my bigotry dad

Irony just jumped from dua's bigotry & died.... pic.twitter.com/uL5OOV3KSX

— Mr Sinha (@Gajodhar_07) October 14, 2018
For others u will do social media trial and give final verdict. But,for ur accused father u will stand with him. Superb Hypocrisy.??? #BabujiMyAss

— Swagat Hindustani?????? (@parida_swagat) October 14, 2018
In a long Facebook post, Nishtha had accused Vinod Dua of insulting her, stalking her and sexually harassing her around 30 years ago.