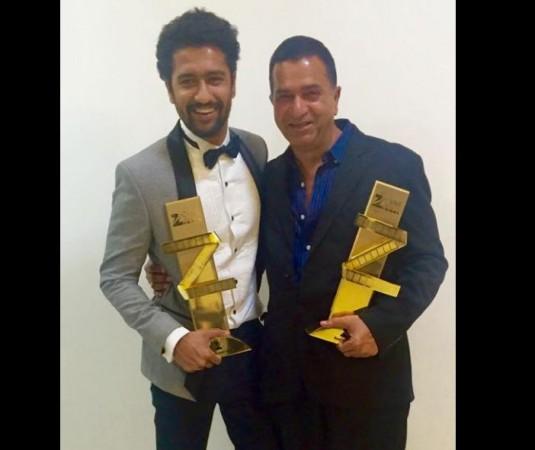 Actor Vicky Kaushal's father Sham has now been accused of causing sexual harassment by a few women. The veteran stunt director has responded to the charges with a statement and apologising to them.
A female assistant director, Nameeta Prakash, has shared her #MeToo story on social media and accused Sham Kaushal of inappropriate behaviour during an outdoor shoot.
In her Facebook post, Nameeta said that Kaushal first tried to convince her to drink with him, and after she refused, he "picked up his phone and suddenly plugged it in front of me with porn MMS video clip on it".
"Back in 2006 on an outdoor shoot, Shyam Kaushal, the famous and award-winning Hollywood stunt director decided that I should be going to his room after wrap to drink vodka. The sound of that was just so wrong that I lied to him and told him I don't drink at all. He tried to insist, by saying that I didn't know what I am missing out on and when I stuck my ground he picked up his phone and suddenly plugged it in-front of me with a porn MMS video clip on it. He said he bought this from the streets of Bangkok for 10 baht. All I did was pretend that someone paged me on the walkie and walked away. I told my line producer about it within half an hour of it happening and she was appalled but didn't know what she could do at that point but she did make sure I was never alone with the stunt team on any of the stunt days on the rest of the schedule," she stated in the post.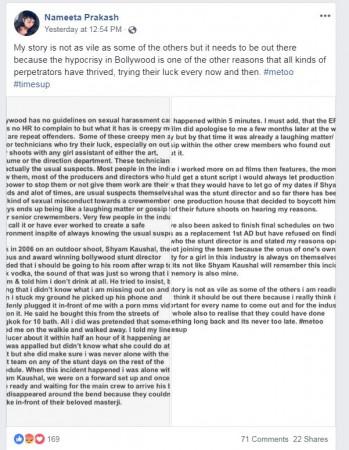 Another woman who worked with Kaushal also narrated an incident wherein, the senior stunt director tried to convince her to come to his room without letting anybody else know about it. The woman named Ashi Dhingrra shared the story on social media.
"In this film industry, it's not only actors or the bigger people are creep..behind the camera technical team is the same. They think every girl on set is easy to get. This is the same Sham Kaushal Action Director who talks very genuine and then shows the real face of himself.
"He gave me his contact number himself and asked me to msg for taking my number. When I didn't send a msg.. he reminded me again then out of respect of age and being him a HOD l just messaged him Hi. Then he asked me my evening routine, my room number and smartly he told me his room n. Too.
"Then asked me to come to his room just for chit-chat. And said 'don't tell this to anyone keep this between U & ME' otherwise people talk. I got conscious. The same day after pack-up he messaged me 'I heard pack up from room' I replied him sorry sir, can't come coz I didn't understand ur 'U & ME' thing. Then he started making my fun on set. Tried to link up me with another actor just to take revenge and harass me. 3 days Shooting with him were horrible. I know some people will think that thanks god nothing happened. But my question is who has given this right to men to behave or say such thing at workplace???" she stated in her post.
Noticing the accusations being made against him on social media, Kaushal posted a statement with an unconditional apology.
"Ever since I have been working in this industry, I have tried my best to be a good human being professionally and personally, never wishing to hurt or disrespect anyone. I have read the allegations made against me by some crew members. If I have unintentionally caused any hurt or anguish, I unconditionally apologise to the ladies, to the production houses and each and every member of the film fraternity," he said in the statement.