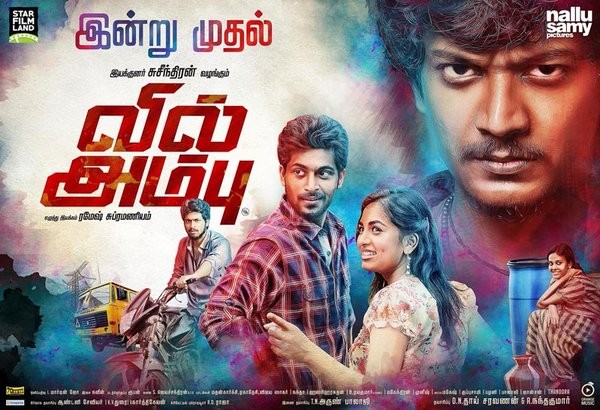 Ramesh Subramaniam directorial "Vil Ambu" hit screens on Friday, Feb 12. The movie features Sri, Harish Kalyan, Srushti Dange, Samskruthy Shenoy and Chandini Tamilarasan in the lead roles.
Anjala Review | Jil Jung Juk Review
"Vil Ambu" also has Harish Uthaman, Nisha Krishnan, Nandakumar and others in the cast. It has Navin's music, Martin Joe's cinematography and Ruben's editing.
The Tamil film has garnered decent pre-talk with its promotional materials. So, people have pinned good hopes on "Vil Ambu". However, the flick is clashing with two other releases "Jil Jung Juck" starring Siddharth and Pasupathi starrer "Anjala", which also hit screens on Feb 12.
The story is set in Coimbatore in which Karthi (Sri) plays the role of a ruffian and a petty thief. Arul (Harish Kalyan), who dreams of making a career in photography, joins IT due to his parents' pressure. Both the characters live in the same locality. Shrushti Dange will be seen in the role of Kalyan's love interest and Samskriti is the leading lady of Sri in "Vil Ambu".
Karthi and Arul's lives are inter-linked even though they never meet until the end. How their good and bad moments are connected form the crux of the story.
Reviews:
People, who have seen the film, say that "Vil Ambu" boasts good subject but the execution is not up to the mark. Here, we bring to you the audience response to the Tamil flick:
Surendhar MK posted:
#VilAmbu is a middling watch. Novel plot but the narration fizzles out and gets mundane as the story progresses. Could have been better.
Shankar Ganesh posted
#VilAmbu is an average film. The heroes perform well with the contrasting characters
#VilAmbu Samkruthy Shenoy, Chandini Tamilarasan and Shrusti Dange have their moments in the film.
#VilAmbu Overall, it is one-time watch.
Jackie Cinemas tweeted:
#VilAmbu movie Review Very Good making and logical mistakes are less.Dir #RameshSubramaniam @dir_susee, @DuraiKv
Adhi ‏@Adhithiyan wrote:
#VilAmbu Perfect movie :) a movie which is worth watchable in theatre.Completely inspired with the acting of @srushtiDange verdict: 3.5/5
Rajini Praveen 2.0 tweeted
#VilAmbu 4/5 A decent thriller Movie...A must Watch film!! Don't miss it!! @actor_harish
#VilAmbu 4/5 @actor_harish is adequate both as a college boy as well as when wrongly accused and hounded by the police..
Ramesh ‏wrote
#VilAmbu [3.25/5]: Dir #RameshSubramanian has used #Coimbatore as the backdrop and has made an engaging thriller with well-etched characters
Music Dir #Navin 's songs and BGM are a major plus.. Editor @AntonyLRuben keeps the pace well.. 2 hrs 17 mins duration..
#Sri is very impressive.. Actor #Harish is handsome and does a good job as well.. Actor #YogiBabu is awesome..
An intricately woven story.. Interesting Screenplay.. Solid Performance by Actors.. An engaging thriller.. Enjoyed it..