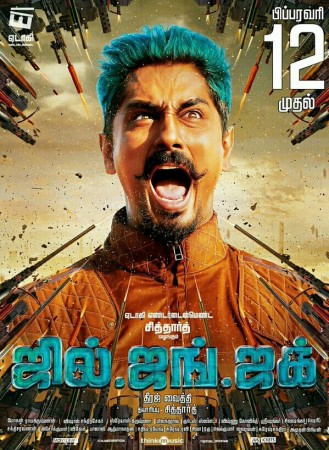 Siddharth starrer "Jil Jung Juk" (also spelled as "Jil Jung Juck") has opened to mixed reviews from the audience. While the unconventional attempt has been appreciated, the adult-comedy scenes have failed to work big time.
Click Here to See the Movie Photos | Vil Ambu Review | Anjala Review
"Jil Jung Juk," which is a famous gibberish phrase popularised by Vadivelu in Shankar's "Kadhalan," is a quirky dark-comedy film. The interesting part of the flick is that it does not have an actress. Siddharth, Avinash, Sananth Reddy, Nassar, Radharavi and RJ Balaji are in the cast.
The movie has Vishal Chandrashekhar's music, Shreyaas Krishna's cinematography and Kurtz Schneider's editing.
"Jil Jung Juk" tells the story of three youths Jil aka Nanjil Sivaji, Jung aka Jambulingam, and Juk aka Jaguar Jagan, and their journey towards their goal. The story is inspired by three elements mass, length, and time from physics.
The story is set in 2020, when the economic crisis creates huge demand for petrol and money. Gangster Deiva Nayagam, played on screen by Amarendran, hatches a brilliant plan to smuggle cocaine and he seeks the help of scientist Marunthu (Balaji Perumal) to convert the illegal drug into a chemical, which will be used to paint an Ambassador car.
Then, the gangster hires Jil, Junk and Juk to deliver the car to the Chinese drug mafia in Hyderabad. What happens next is the interesting part of the story.
The Average Ratings Given by Audience: 3
Reviews:
Here, we bring to you audience response to the film:
Surendhar MK ‏wrote:
JilJungJuk: Works in bits & pieces. Zany world of characters. Portions that fall flat slightly outnumber the ones that leave you in splits.
#JilJungJuk: Enjoyed the unrestrained adult jokes and double entendres in the film. Especially the 'Pai' character in the first half.
Kaushik LM ‏posted:
Extended glimpse of #Thala #Ajith's portrait in the red roadu song. #JilJungJuk.. Super-Trippy title credits & the enjoyable pink car quirk
#JilJungJuk Stoner - gangster - dark comedy space. Wacky, crazy & works in parts. Could have been crisper. Dialogs aren't consistently funny
Harahara Mahadevaki voice for 'pai' in #JilJungJuk was big fun. Lots of enjoyable adult comedy. Ugandan language scene sema @Actor_Siddharth
Ck Mohammed tweeted
#JilJungJuk - Gangster,black comedy enjoyable at parts, doesn't entertain on the whole, complete different attempt in TC,good screenplay.
Extraordinary BGM work by Vishal Chandrashekhar, could have been trimmed for a better second half, contains dull moments.
It's fun to watch once with gang of friends for its adult timing dialogues, that's it.
Rinku Gupta tweeted:
@Actor_Siddharth s #JilJungJuk definitely New Age, with lot of attention to detail and out of the box thinking in the making
@Actor_Siddharth loved the LuckyLuke type of drawings and art work in between, explaining locations ! #JilJungJuk
Dinesh tweeted
#JilJungJuk interval - A rocking fun ride so far. Loving the screenplay where music and dialogues are the key. Superb performances.
Throughly enjoyed #JilJungJuk - Had alot of fun with friends. Superbly made. Fresh and a never seen dimension in Tamil Cinema. Kudos.
I'm pretty damn sure the entire crew of #JilJungJuk will go places. Especially the music and art directors. Very Impressive!
Bharathnt posted:
Simple story of three callous men on a journey to complete a big task. Black comedy by Deeraj Vaidy. @Actor_Siddharth pulls it off in style
Rajasekar wrote:
#JilJungJuk - Occasionally 'Jil' but mostly 'Jung' and 'Juk'. You might even ask What The Juk?
Sreedhar Pillai
#JilJungJuk 2.75/5. #VishalChandrasekhar music score +. Director Deeraj Vaidy is a promising find but his packaging should have been better
2.75/5. The first half is terrific with an awesome interval block. But post interval it loses its fizz as jokes are repeated.
New gen wacky black comedy works in parts. @Actor_Siddharth key 2 happenings in a la—la land set in 2020, & he is fab.
Smart Barani
1st half nice with good comedies 2nd half dragged up ..overall fun movie .. Enjoyed a lot 3.25/5 #JilJungJuck
#Thala reference is in the movie of #JilJungJuck
Watched #JilJungJuck so much fun entertainer specially hara hara Mahadevaki voice
Vidyu ‏posted:
Don't miss my pal @Actor_Siddharth 's #JilJungJuk ! Not only has his hair colour changed but this will change the colour of Tamil Cinema!
Sujith wrote
#JilJungJuk: Another unconventional dark comedy thriller. The adult comedy scenes work well. Bit lengthy. A good attempt by the team.
Prashanth
#JilJungJuk - 3.25/5 for the movie . 5/5 for a team which will break many Kollywood myths in future!