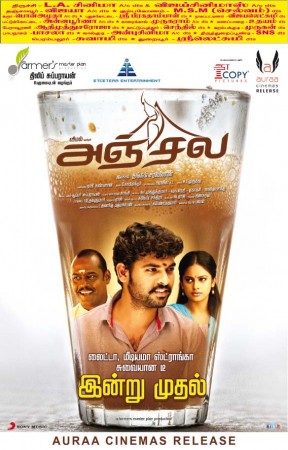 Vimal, Pasupathy and Nandita starrer "Anjala" is written and directed by Thangam Saravanan and produced by Dhilip Subbarayan. The film was released worldwide on Friday, Feb 12.
Vil Ambu Review | Jil Jung Juk Review
Imman Annachi, Aadukalam Murugadoss, Subbu Panchu, Riythvika and others are in the supporting cast. The interesting part of the story is that a host of stars, including Jayam Ravi, Bobby Simha, Karthi, Raghava Lawrence, Sivkarthikeyan, Vijay Sethupathi has done guest appearances in "Anjala".
The Tamil movie has Gopi Sunder's music, Ravi Kannan's cinematography and Praveen KL's editing.
The film has generated decent pre-talk with its promotions. The makers are hoping that this factor work big time for "Anjala" at the box office.
Set in Cholavandhan village, "Anjala" is the story of a middle-aged man played by Pasupathy, whose century-old tea shop is in danger due to the widening of the road. A love story between Kavas (Vimal) and Uthara (Nandita) is connected with the main plot that starts at the shop.
The clash between tradition and modernisation is the crux of the story. "Anjala" raises questions on if we are welcoming the development at the cost of cultural symbols.
Reviews:
The movie has opened to decent reviews. The audience say that "Anjala" has a good story backed by good performance of the lead cast. But there are also useless songs and comedy sequences that play the spoilsport. Nonetheless, viewers have whole-heartedly praised the performance of Pasupathy. Here, we bring to you their response to the flick:
Rajini Praveen 2.0 wrote:
#Anjala Its not just a tea shop Its livelihood for everyone
living around it A Must Watch film!! @dhilipaction @ActorVemal @FullOnCinema
#Anjala 3.75/5 The second half gathers momentum as the crisis deepens and the relationships take a beating due to external circumstances..
Ramesh posted
#Anjala 1st Half : Revolves around a 100 year tea shop.. A feel-Good flashback from 1900s.. #Vemal - @Nanditasweta 's romantic track is cute
#Anjala 1st Half : Lot of sub-plots woven around the tea shop.. Movie gets serious around interval block.. Looking forward to the 2nd half..
#Anjala [3/5]: Highlights the small-town values of togetherness in a community where Tea shops r lifelines.. Emotional with Romance & humor
#Anjala [3/5]: #Pasupathi plays the pivotal role of the Tea shop owner.. He hold the film together with his subtle actin in present & flshbk
#Anjala [3/5]: Actor #Vemal is perfect as the village youth.. @Nanditasweta looks good and does a fine job as #Vemal 's love interest..
#GopiSunder 's songs are peppy and melodious and go with the mood of the movie.. @Cinemainmygenes keeps the movie well paced
Dir #ThangamSaravanan has packed as much interesting stuff surrounding a Tea shop.. B&C / Small-town audience will love it..
Priyanka posted:
It's modernisation vs tradition in #Anjala
#Anjala gripping emotional climax .....works at parts
Rinku Gupta tweeted
#Anjala makes for good viewing with the family
Vicky wrote
#Anjala A feel gud film with mixture of gud humour & emotional climax.. Sure watchable
Prashanth tweeted
Done watching #Anjala - Clean family entertainer. Very positive movie.
Surprised about how #Anjala ended. Natural ending without focusing much about the leads. Also surprised about importance for small roles.