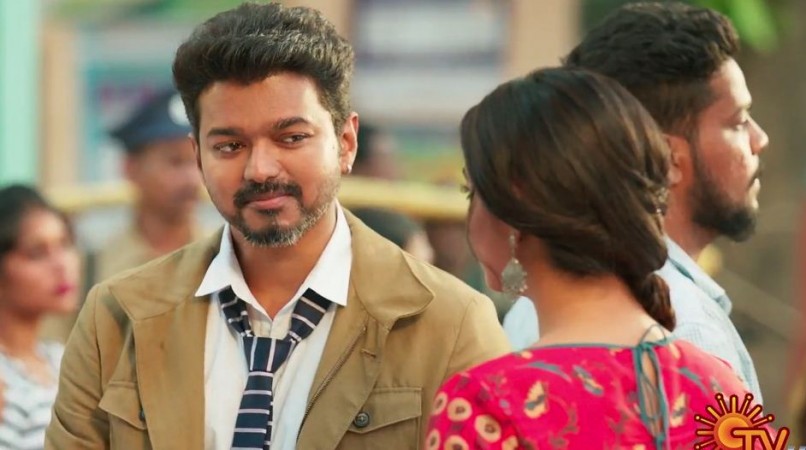 The screening of director AR Murugadoss' movie Sarkar starring Vijay was cancelled in a few areas of Tamil Nadu after AIADMK party held a protest against its makers, demanding the removal of some scenes.
It is being claimed that some scenes from Sarkar allegedly attacked the Tamil Nadu government freebies. Since the movie is bankrolled by Sun Pictures' owner Kalanithi Maran, it did not go down well with AIADMK. The party thinks it is an attack on the welfare schemes of the previous AIADMK government led by late J Jayalalithaa.
The buzz on the social media claims that the activists of AIADMK held a protest in front of some cinema halls and forced the exhibitors to stop the screening of Sarkar.
Ramesh Bala, an observer of Kollywood, tweeted, "#BREAKING : After #AIADMK protest against #Sarkar in #Madurai #CinePriya theater earlier today, the theater complex #CinePriya, #SugaPriya and #MiniPriya cancel the matinee show.."
Sarkar was released in the theatres on November 6 and a day after it hit the screens, Kadambur Raju, the Information and Publicity and Law Minister of Tamil Nadu, expressed his displeasure with the film.
"There are a few scenes in the film which give room for political misgivings. This is not good for a growing star like Vijay," the Times of India quoted the minister telling the reporters at Kovilpatti.
Kadambur Raju says that Sarkar incites violence. "I strongly feel that all persons concerned with the film- the actors, producers, storytellers, theatre owners exhibiting it- should be booked under the appropriate sections. I am not talking just about Vijay. Everyone has the right to criticise the government. But the film is inciting violence. That is a grave offence," the News Minuted quoted him as saying.
Vijay's last flick Mersal had also faced similar charges, but BJP's protest had benefited the movie. Now, people in the industry feel the AIADMK stint will also work in favour of Sarkar. Hemanth Kumar tweeted, "Nadigar Sangam should sign an MOU with Tamil Nadu government and opposition parties. No matter what the film, the politicians are doing a better job at marketing the film much better than the actors/production house."
The Vijay starrer opened to mixed response from audience and critics but managed to fare well at the ticket counters. Sarkar has collected around Rs 110 crore at the worldwide box office in two days.