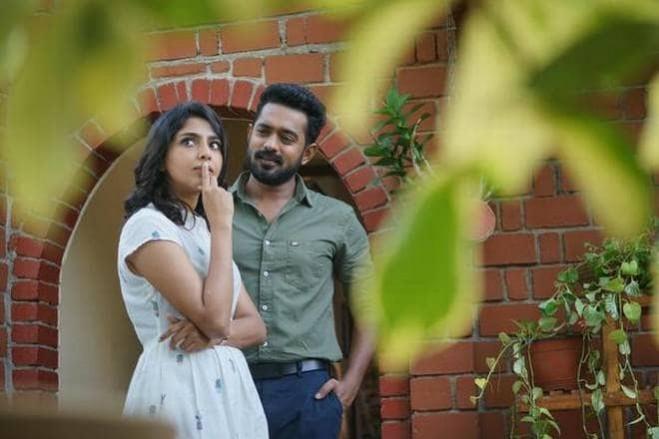 Director Jis Joy's Malayalam movie Vijay Superum Pournamiyum (VSP) starring Asif Ali, Aishwarya Lekshmi, Balu Varghese and Aju Varghese has received positive reviews and ratings from the audience
Vijay Superum Pournamiyum is a comedy-drama and director Jis Joy has written script and dialogues for the film, which has been produced by Sunil AK under the banner New Surya Films. The movie has been awarded a U certificate by the censor board and its runtime is 2.15 hours.
Vijay Superum Pournamiyum story: It is a realistic and mature love story that is about Vijay and Pournami, who have contrasting personalities. Vijay is a guy who is a far cry from actually being super and Pournami is a charming and vivacious girl. How their lives are mutually influenced forms the crux of the story.
Analysis: Vijay Superum Pournamiyum is a feel-good comedy peppered with a pinch of romance. Though it deals with a routine story, Jis Joy has created an entertaining and engaging screenplay that is a treat for the family audience. Asi Ali, and other lead actors' performances and good production values are highlights of the film, say the viewers.
Vijay Superum Pournamiyum review live updates: We bring you some viewers' response to the film shared on Twitter. Continue to read the audience's response.
Sugarman‏ @SwoonyLoony
#VijaySuperumPournamiyum #VSP ✴✴✴✴ Best romantic comedy with interesting twist and turns Aiswarya as Pinky is mind blowing Asif Ali is getting better and better with each film Jis Joy knows his craft Amazing BGM Go Watch and Fall In Love So Many Times
Akshay Sk‏ @akshaym1785_m
#VijaySuperumPournamiyum: #Asif - #Jis Strikes Again , Another Good Movie From The Hit Combo There Is A Lot Of Funs & entertainment , With a Good Climax Good Performance From All Cast & #aishwaryalekshmi again makes a Hit Overall Rating : 3.5/5 Be the First Hit Of 2019
Forum Keralam (FK)‏ @Forumkeralam1
#VijaySuperumPournamiyum is another one of the typical trademark feel good movie from #Jisjoy on the lines of his earlier outings. It's a remake that does justice to its original to an extend Those who haven't seen #Pellichoopulu might find this better
Palakkad Theatres‏ @PTheatres
#VijaySuperumPournamiyum A complete feel good entertainer Jiss Joy strikes again and presented very well that suits to keralites✊ All leading actors performed very well Will be the first hit of 2019✌ 3.75/5
Snehasallapam‏ @SSTweeps
A good first first half for #VijaySuperumPournamiyum ✌️ Feel good genre & if 2nd half comes out well then sure shot. #VijaySuperumPournamiyum~ SUPERB. A feel good movie with lot of good moments. Asif & Aishwarya did a great job. Siddique ikka JissJoy - another superb movie after Sunday Holiday. Our Rating: 3.5/5 A good start for KBO in 2019. @actorasifali
Palakkad Theatres‏ @PTheatres
Very good first half for #VijaySuperumPournamiyum Asif-Jiss combo strikes again✌
_gokulg‏ @gokuljii97
#VijaySuperumPournamiyum excellent first half JisJoy❤
Forum Reelz‏ @Forum_Reelz
#VijaySuperumPournamiyum: Interval - Good First Half With Lot Of Enjoyable Moments ✌️ #JisJoy Did A Good Job To Present The Story To Suit Our Audience #Asif & #Aishwarya Pair Looks Good Overall A Good First Half #VijaySuperumPournamiyum: Review : #Asif - #Jis Strikes Again , Another Good Movie From The Hit Combo There Is A Lot Of Light Hearted Funny Moments , With A Good Climax Good Performance From All Cast With #Asif #Aiswarya & #Sidhique Show Stealers First Hit Of 2019 ✅