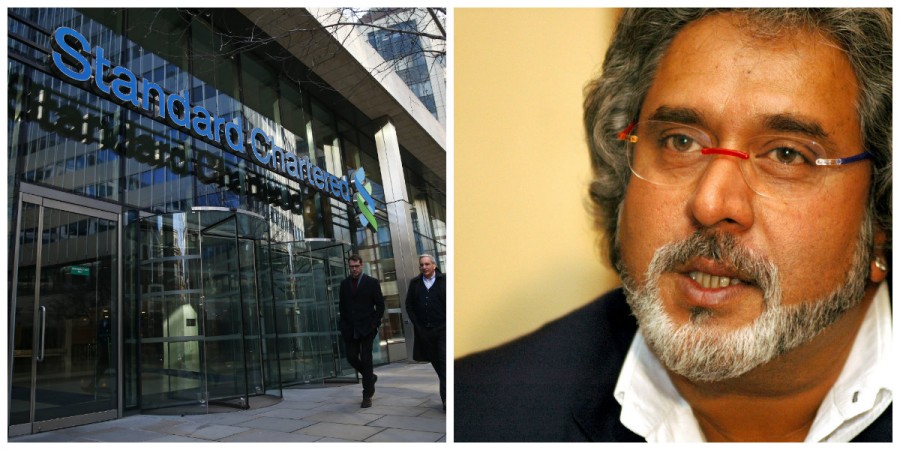 Standard Chartered Bank (SCB) dropped a bombshell in a debt recovery court on Wednesday, alleging State Bank of India (SBI) and other lenders, who have given loans to UB Group promoter Vijay Mallya's companies, "colluded" with him to deprive the London-based bank from carrying out a transaction with Diaego Plc.
"When DRT passed the interim order, preventing any transaction between Diageo Plc and SCB, Mallya did not object to it — This stands clear testimony to a collusion between Mallya and banks," SCB advocate G Krishnamurthy told the Debt Recovery Tribunal (DRT), reported PTI.
The interim order SCB referred to prevents the London-based bank from carrying out transactions with British liquor company Diageo Plc, whose Indian subsidiary United Spirits agreed to pay $75 million to Vijay Mallya in February to step down from the chairmanship of the company.
The advocate for the SBI-led consortium, which are stuck with bad loans worth Rs. 9,000 crore given to Mallya's now-defunct aviation venture, Kingfisher Airlines, refuted the allegation.
Diageo had issued a guarantee to SCB for a $135 million (about Rs. 877 crore) loan to Watson (U.K.-based company formerly controlled by Mallya) to release United Breweries Holding Limited (UBHL) shares that were to be acquired as part of the deal.
"Mallya could have objected to the interim order, but did not do it...Because it served his purpose as the interim order prevented the sale and transfer of UBHL shares that were to be acquired by Diageo who had issued a guarantee to SCB for around Rs 877 crore loan to Watson, a holding company of Mallya," the agency quoted Krishnamurthy as arguing in the DRT.
However, the bankers refuted SCB's allegation.
"If the bankers had colluded with Mallya, we would not have been waging a court battle against the high-profile defendent," their advocate told the DRT.
Vijay Mallya was declared "proclaimed offender" by a money-laundering court a few days ago for refusing to turn up despite repeated summons issued by the Enforcement Directorate, a finance ministry wing that probes cases of money laundering.