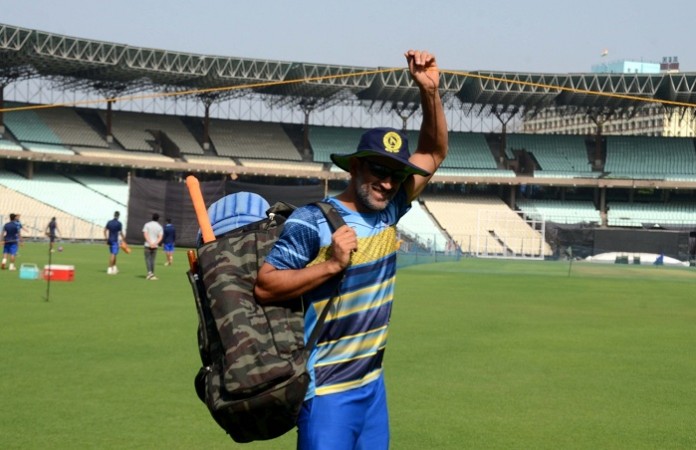 The India cricket team may be busy sweating it out in the middle against Australia in the ongoing Test series, but MS Dhoni, who is presently leading Jharkhand in the Vijay Hazare Trophy, has been bagging headlines for positive reasons. Be it his train journey after 13 years with his Jharkhand teammates or his decision not to stay in a hotel, he has been a popular figure in the Vijay Hazare trophy.
After train ride, MS Dhoni throws another major surprise
His popularity might have reached another level amongst the Jammu and Kashmir cricketers when Dhoni decided to visit their dressing upon the request of J&K captain Parvez Rasool. The Jammu and Kashmir cricketers might have been disheartened after their performance in the Vijay Hazare trophy, where they won only one match, against Saurashtra, and lost five matches, but Dhoni's visit might have made their day.
Dhoni did not even think twice and obliged to Rasool's request. The wicket-keeper batsman patiently listened to all questions that were thrown at him by the Jammu and Kashmir cricketers and answered their queries. He also offered tips to reserve wicket-keeper Raman Thaploo.
"Mahibhai has always been helpful on cricketing matters. That's his nature. It was a great opportunity to learn a thing or two from Mahibhai. It was a great opportunity for our youngsters who have seen Dhoni only on TV... They saw Mahibhai for the first time today. Mahi went inside and answered their cricketing queries," NDTV Sports quoted Rasool as saying.
"He told Raman how to react in subcontinent conditions. Our batsmen going through a bad patch. He said, 'Every cricketer goes through a bad phase. When you are in bad form, even a bad fielder takes a brilliant catch but it's opposite in good times. He said to work even harder in such testing times, be serious in the nets. You should not get out in nets. You will take confidence if you have this."
Though MS Dhoni has been grabbing headlines for off-field reasons, the Jharkhand skipper has played an integral role in helping his state qualify for the knockout stages of the Vijay Hazare Trophy. After winning four of their six matches in their group, Jharkhand have set up a quarterfinals date with Vidarbha on March 14.