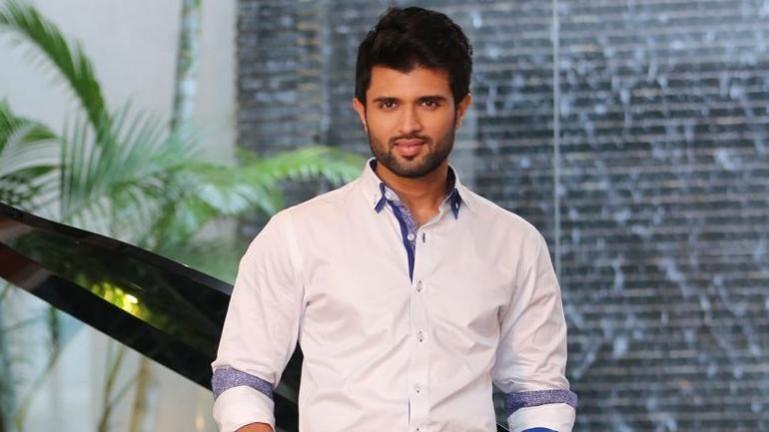 Geetha Govindam actor Vijay Deverakonda has reportedly suffered some minor injuries in a train accident during the filming of his upcoming film Dear Comrade and its shoot has been cancelled due to the cyclone.
It is reported that Vijay Deverakonda had to catch a moving train during the shoot of Dear Comrade in Kakinadu during which he lost grip and fell off when he ran through the footboard. The makers had arranged some helpers to address this kind of situation. They pulled him to their side, away from the train, before it ran over him. But he met with minor injuries and he was given treatment on the spot.
The makers have called off the shoot of Dear Comrade following the cyclone and Vijay Deverakonda is using this break to get rejuvenated. The Arjun Reddy star took to his Facebook page to confirm it. Besides sharing his photo, he wrote, "Met prediction - Cyclonic winds and Rough Sea. Me - Shoot Cancelled & Chillll."
Vijay Deverakonda is just a few movies old in the film industry, but has a massive number of fans with all his movies becoming a hit at the box office. Many of his fans, who were concerned about his health, replied to him and wished for his good health. A fan named Ramreddy Shireesha wrote, "Get well soon vijay garu...dnt take risks...Love u vijay garu ...iam a big fan of u (sic)"
However, Vijay Deverakonda and Rashmika Mandanna, who will be seen together again, had a fun banter on Twitter about Dear Comrade. It all started with Vijay Deverakonda, who tweeted, "Comradeee @iamRashmika,Congratulations on being South's most Googled actress child of the year, the superstar who has the most googled film of the year, the 1st, 4th & 9th most googled songs of the year. We want a party. #GoogleDomination!"
Rashmika Mandanna replied, "Comrade @TheDeverakonda??, Where is MY party Mr.Filmfare-Owner of Rowdywear??‍♀ The 4th most googled actor &star of the most googled film? and 2nd&4th most googled song? AND you promised a party to the whole set after the Election results- where I say???‍♀ AND."
Finally, the bosses of Mythri Movie Makers intervened and assured to host the party, "Wait. Wait. Wait. The party is on us Dear Comrades ‍♂️ You've been away from home for a month working extremely hard and we are loving what you are creating! Congratulations but it's our treat ❤️"