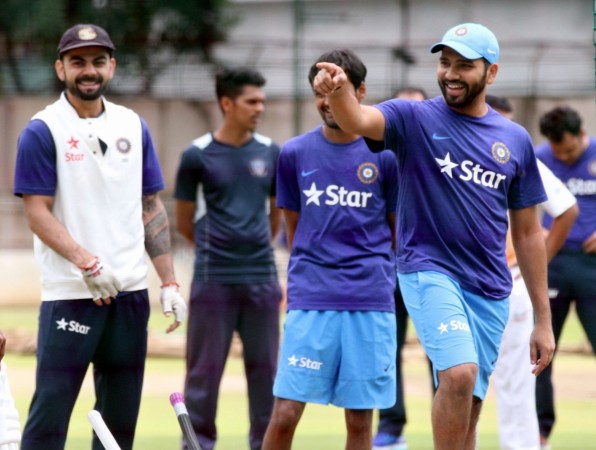 There's nothing that music cannot do. It not only brings lost souls together, but also helps existing souls bond stronger. The India cricket team, under newly-appointed head coach Anil Kumble, is taking the route of an unique 'bonding' session designed to build further team chemistry and music remains an integral part of the exercise.
India players participated in a bonding session that saw them play drums along with well-known musician Vasundhara Das and drummer Roberto Narain's music group 'Drumjam' in Bengaluru on Sunday.
The likes of MS Dhoni, Virat Kohli, Shikhar Dhawan, Ishant Sharma and Rohit Sharma were seen jamming alongside Vasundhara, who rendered the party hit 'It's the time to disco' from Shah Rukh Khan-starrer 'Kal Ho Na Ho'. Referred to as 'Drum Circle', the unique exercise saw the cricketers jam together with the percussion instrument while seated in a circle.
"It is important to enjoy the period, which is tough. But till (the time), you stick together and enjoy as a group, I don't think there is anything that will stop you. Make sure you have a lot of fun," India limited-overs captain Dhoni was quoted as saying by the BCCI. "The forty-five minutes that we spent here means we can have fun anywhere in the world. We just need the company of us."
Kohli, on his part, mentioned that the music session was an important "life lesson." "This is more of a life lesson than a cricket lesson. A lot of us will remember this day for what we did. Not many of us know how to dance and play the drums, but we tried and ended up having a lot of fun," said the India test cricket team captain.
"We can try our best, be honest about what we do and good things will happen," the 27-year-old added.
The new exercises devised by Kumble to make the cricketers bond better is definitely expected to boost the side ahead of the tour of the West Indies, scheduled to last for seven weeks, starting July 6. Team India will play two practice matches -- from July 9 in St Kitts and a three-day warm-up match from July 14.
Kohli's men then play four Test matches, with the first one starting on July 21.
The Indian Cricket team also participated in a yoga session as a part of preparations for the tour. Check the videos below: