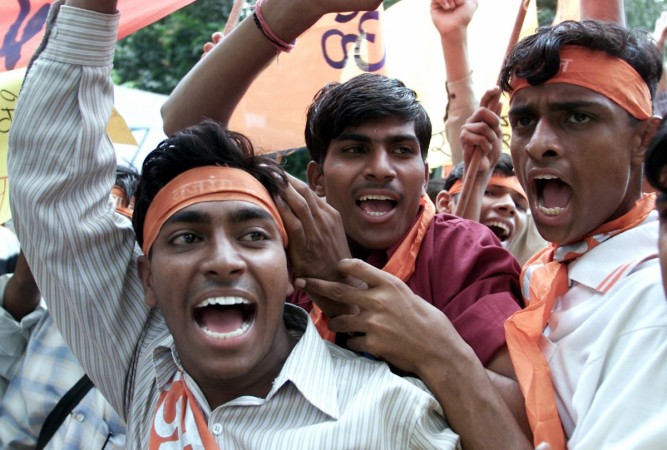 A group of Vishwa Hindu Parishad and Bajrang Dal workers attacked Vikram University's Vice Chancellor JL Kaul on Monday for asking residents of Ujjain to extend financial support to students from flood-hit Jammu & Kashmir.
A group of 20 workers from both the parties arrived at Kaul's office on Monday and demanded to take back his appeal to offer help to Kashmiri students as the citizens of J&K pelted stones on Army personnel deployed to rescue them and provide relief aids, The Indian Express reported.
Kaul had on Monday appealed local landlords not to force the Kashmiri students for paying their rents and even asked them to cut down the rent for them as they would not be able to receive money from their family as contacts have been severed due to massive floods in Kashmir valley.
He even offered to organise a camp to help support the Kashmiri students and asked the University students and residents of the city to come forward to help the students.
Kaul's appeal had angered VHP and Bajrang Dal workers who questioned why people like him did not make similar appeals when Uttarakhand and Gujarat were hit by massive floods or earthquakes in the past.
The angry mob reportedly indulged into a heated argument with Kaul and when he refused to withdraw the appeal, they smashed glass panes, broke furniture and computers. They also allegedly attacked the Vice-Chancellor, who was admitted to hospital after he complained of chest pain.
The Ujjain police have registered an FIR against the unidentified members of VHP and Bajrang Dal, but no arrests have been made yet. However, police have taken the CCTV footage of Vice-Chancellor's office expecting to identify the attackers, said Deputy Superintendent Vijay Kumar Dawar.
The teachers and staff of Vikram University have declared a strike on Tuesday, protesting the attack by the VHP and Bajrang Dal workers and demanding immediate arrest of those who attacked the Vice-Chancellor.