Italian two-wheeler maker Piaggio has plans to ride Vespa RED in India and the launch is expected soon. Vespa RED is a result of the collaborative partnership between Piaggio Group and (RED) that would be a welcome addition to the Indian market options.
But there is a catch. According to ZigWheels, Vespa RED may only come in the domestic market as a variant of the existing 125cc or 150cc scooter. Vespa's current range in India includes VXL, SXL, Standard version and the Elegante.
The 150cc engine powered models produces a peak power output of 11.44 bhp at 7,000 rpm and a peak torque of 11.5 Nm generated at 5,500 rpm while the 125cc versions produce a peak power output of 10.45 bhp at 7,500 rpm and a peak torque of 10.6 Nm generated at 6,000 rpm.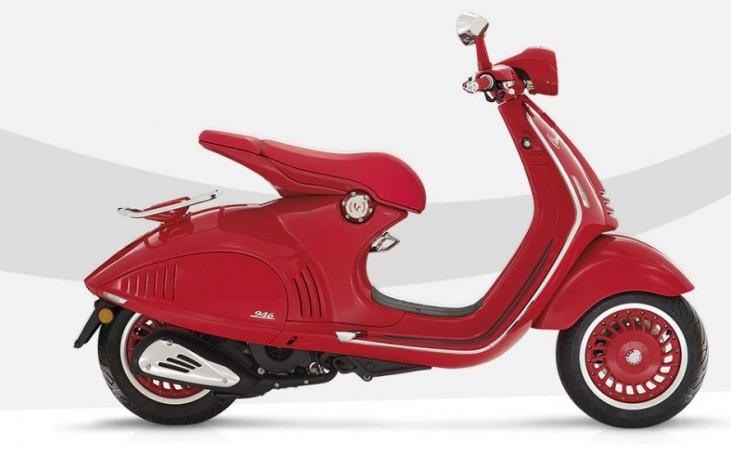 In the international market, Vespa RED is an all-red version of the classic scooter 946, which contributes towards initiatives fighting the scourge of HIV/AIDS, the spread of tuberculosis and curbing malaria. Thus, it offers a chance to join in the fight against some of the dreaded illnesses that humankind has had to face. The RED comes powered by a 125 cc single-cylinder four-stroke engine with an electronic injection system.
Founded in 2006 by Bono and Bobby Shriver, (RED) has donated $360 million to the Global Fund to Fight AIDS, Tuberculosis, and Malaria in Ghana, Kenya, Lesotho, Rwanda, South Africa, Swaziland, Tanzania, and Zambia. Its entire resources have been invested in Africa to fund initiatives aimed at combating HIV/AIDS. The (VESPA 946) RED is the 2017 version of the Vespa 946. It comes with dual-channel ABS system and ASR traction control.
Vespa had launched the 946 Emporio Armani in India last year with a price tag of Rs 12.04 lakh. The model is not on sale anymore as the contract between Piaggio and Giorgio Armani came to a close.
Source: ZigWheels