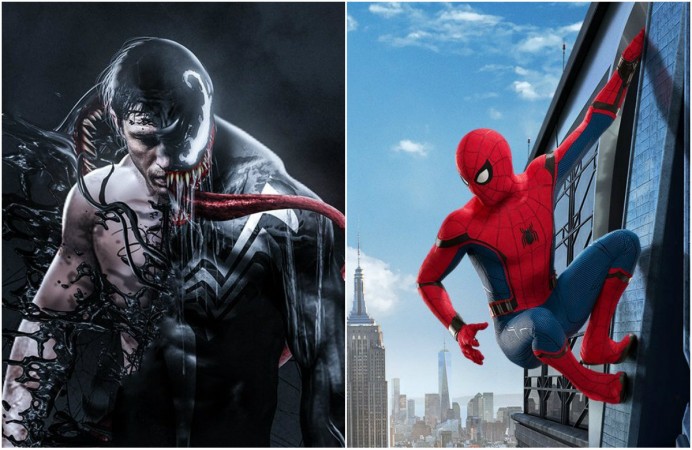 Tom Hardy's Venom movie is reportedly getting a sequel of its own and as per reports, fans will finally get to see the crossover between Venom and Spider-Man. If Spider-Man is set to appear in Venom 2, it means that Peter Parker is surely going to come to this reality in Avengers: Endgame.
Venom movie co-writer Jeff Pinker recently talked about the untitled sequel to Tom Hardy's superhero movie. While speaking to Discussing Film via IGN, the writer stated that a Venom sequel is happening.
"Without revealing anything I'm not allowed to reveal," Pinker teases, "It is not impossible that in a future, upcoming Venom movie, Spider-Man will play a significant role."
The talk of Spider-Man crossover was first confirmed in August when the studio stated that Sony is interested in a crossover movie by saying they are "are already in the same universe—so without giving too much away, we are looking forward to the two of them eventually facing off in the future."
The 2018 release Venom was the first film in Sony's Marvel Universe adjunct to the MCU. The film featured Tom Hardy as Eddie Brock/Venom as a journalist who gains superpowers after being bound to an alien symbiote whose species reportedly plans to attack the planet Earth.
The film cost somewhere around $116 million and went to earn a staggering $852 million at the box-office, becoming the fifth highest-grossing film of 2018. However, the film received generally negative reviews from critics and fans for its inconsistent tone but several fans praised Tom Hardy's performance and his character's chemistry with Venom.
On Rotten Tomatoes, the film holds an approval rating of only 28 percent with the website's consensus reads, "Venom's first standalone movie turns out to be like the comics character in all the wrong ways—chaotic, noisy, and in desperate need of a stronger attachment to Spider-Man."
Following the release of Venom, Sony announced that it had two more Marvel movies set for 2020, one of which is an untitled Sony/Marvel movie sequel which is scheduled to release on October 2, 2020. Tom Hardy's Venom was also released in the first week of October, so fans are assuming that the untitled Sony/Marvel sequel is none other than Venom 2.